Read this quick, easy guide to help you look and feel like an organized teacher while boosting your confidence – because attitude is everything!
There you are, sitting at a staff meeting. Bored already. You glance at the teacher beside you and notice she has the most inspiring and attractive notebook. You see the colored Flair pens. Your teacher's heart skips a beat. Love. Envy.
You look down at your own notebook – the one you got at the back-to-school sale for 10¢. The bent cover. Your dull pencil. It doesn't boost your attitude or make your heart sing.
Sigh . . .
You want to appear confident and prepared to take on the world. But yet, inside, you're feeling less than . . .
You can easily conquer your thoughts and promote the feeling of organization at the same time.
Here's a quick, easy guide to help you look like an organized teacher, even when you're not feeling like one, because attitude is everything!
Look Like an Organized Teacher
When you're trying to pull off an organized, confident look, your stuff DOES matter. So surround yourself with small items that make your heart sing!
Let's admit that sometimes a new notebook, stickies, and flair pens give us a boost.
And dang it – we want what we want!
Do you ever wonder when a new notebook or pack of flair pens became a treat?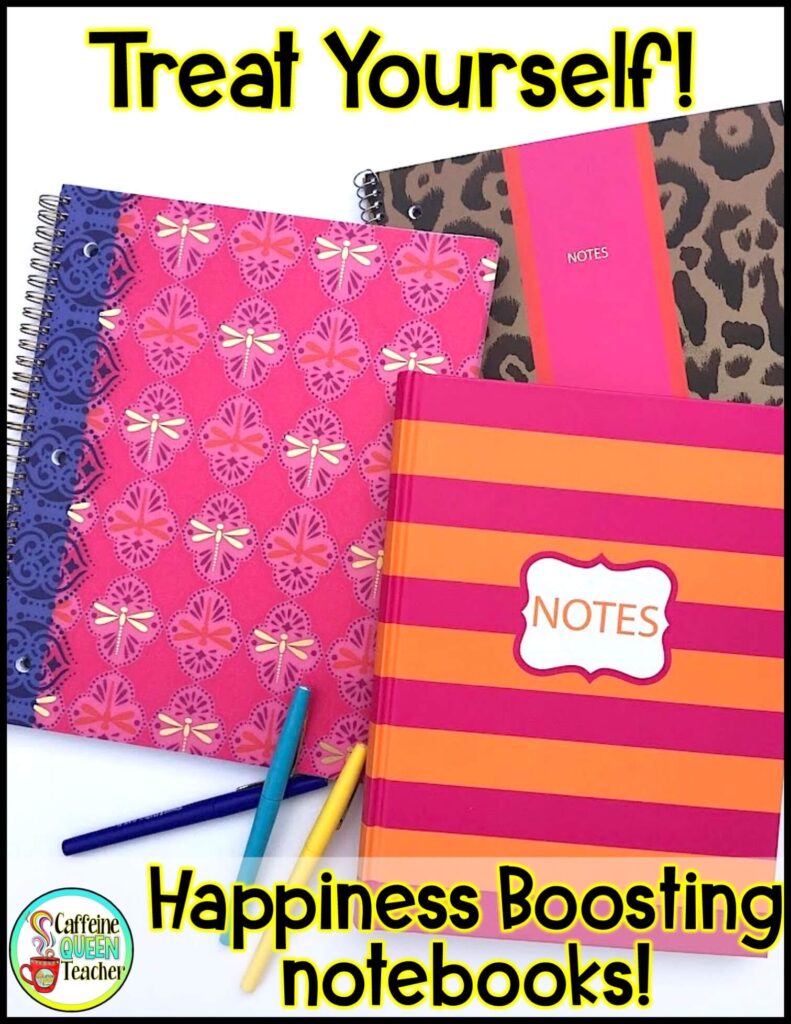 To look confident and pulled together, you don't need lots of expensive stuff. But I suggest that you invest in a few important, attractive things. Invest a bit more money in the quality items that help you feel good about yourself and the image you portray to others. Decide which items are worth the splurge and which aren't.
Here are the teacher tools for feeling great – and looking like your fabulous self!
Large, Cute Teaching Bag
There are so many out there that you'll find the bag for you with a bit of research. I like the ones with lots of pockets because I have lots of things I need. What things? Keep reading to discover the important teacher bag "tools"!
Click here to shop for Scout bags. The designs change from year to year, and I LOVE the pockets!
Click here to check out a list of helpful teacher bag ideas.
Organizing Your Teaching Bag
These items can be as fun and/or functional as you wish – but just seeing it should make you feel good and brighten your day. I bring all this stuff when I attend a meeting, in-service, or conference. Some of it is "fluff" that I could possibly live without. But some of it is absolutely crucial! I'll tell you which is which in my world – but you do you!
1. Super cute, ready-to-go teaching binder
This is a MUST. Set up an organized teaching binder with your important teaching and class information in one place. Grab it and go for staff meetings, conferences, and in-services.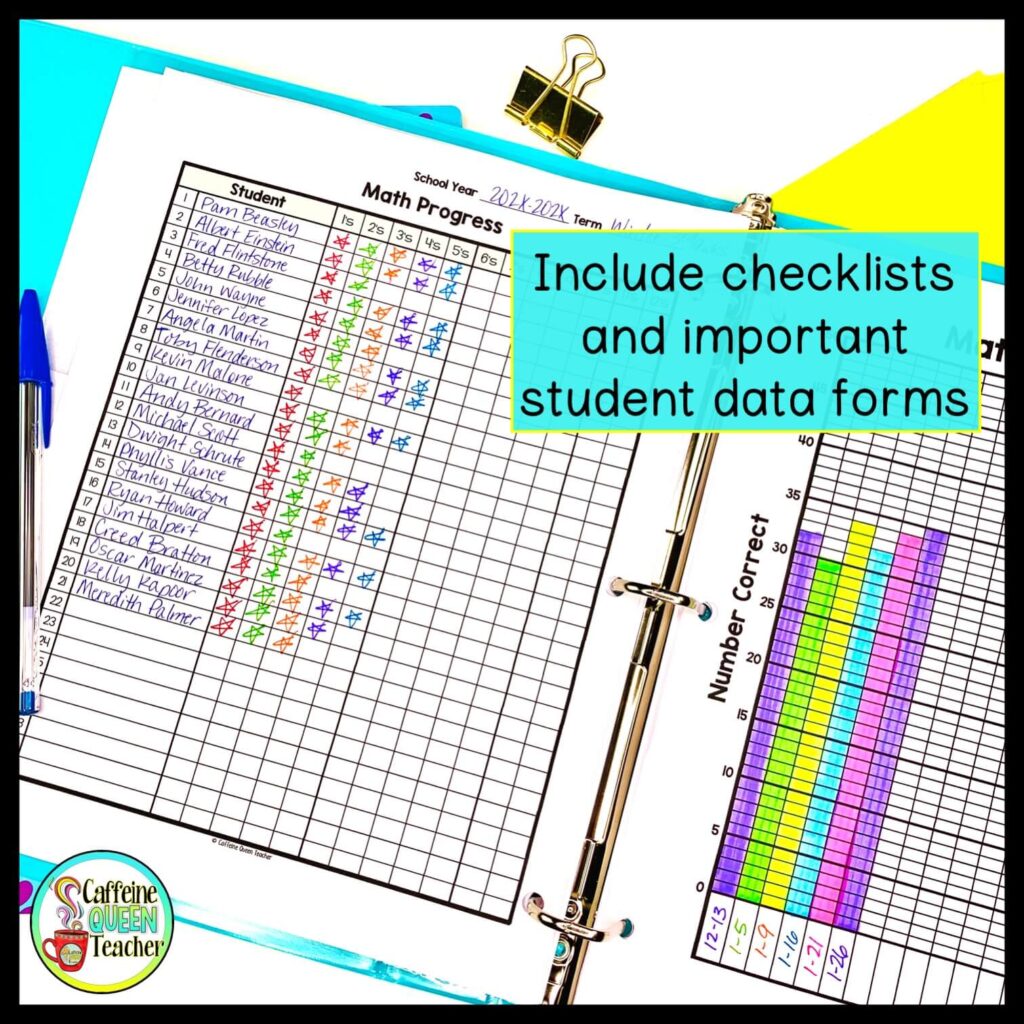 2. Inspiring notebooks and a planner that screams your personality
FLUFF, but nice to have. Who doesn't love brightly patterned notebooks? And you can grab some affordable (but fun!!) at dollar stores, Target, and Walmart. The small boost of happiness is worth the extra buck. The notebooks below came from Walmart, Marshalls, and my local dollar store.
On the other hand, Planners are tougher to find if you're picky and hard to please (Ahem, am I describing you?) So many varieties and styles are out there, and a little research and experimentation can help you find a style that you LOVE that keeps you organized.
Below are links to popular – and stylish – teacher planners that are sure to inspire you!
Here's the link in case you want to peek! Erin Condren Teacher Lesson Planner
And here's a link to We Are Teachers: The Best Planners to Help Teachers Stay Organized (in Style), which lists other fun and useful options.
3. Smooth pens that write well
This is a MUST. We all know that a good flowing writing pen is a must. I usually use a Bic because I like how they write. I also prefer fine tip points.
I'd love to hear about your favorite writing pens.
4. Colorful, fun pens
Some teachers consider this FLUFF, but I've worked with a handful of teachers who insist that these are mandatory.
Paper Mate Flair Pens are always the most popular option. But, lately, I see lots of colorful gel pens and Sharpies toted around. They're super fun and kind of a status symbol. So, they've become a tool of the trade.
And hey, if they keep you awake during a boring meeting? That's a win in anyone's book!
5. Sticky notes
Bring 'em!
Sticky notes are good to have when you attend the kind of meeting that requires you to take action. For example, I always bring them to my school's beginning of the year teacher meeting. Every year I walk out of that meeting with a list of 20 things that I needed to do yesterday, so sticky notes are required for those types of meetings.
6. Gum/mints
MUST HAVE! For the sake of everyone – PLEASE BRING THIS! ? 'Nuff said. 
But please, for the love of all things, don't be a lip smacker and gum popper. I've seen teachers nearly go insane as a coworker smacks away, oblivious to her noises.
7. Highlighters
MUST. Highlighters are included because you feel like an ultra-organized teacher when you pull one out. Plus, you get bonus points for having a couple extra to loan out to teacher friends. They'll remember that you were the prepared one of the bunch.
Highlighters are nice to have and fun to play with during slow meetings. Everyone's impressed when you're this prepared.
Cute Travel Mug, Mug, or Tumbler
To complete your cool teacher tools, you need a cute drink cup. Ditch the cheesy teacher mugs and the nasty, moldy mug you haven't cleaned since the first day of school – GROSS!
Get something cute – and keep it clean, for heaven's sake!
(Plus – think how much more enjoyable it will be as you monitor the bus line!)
Final Word About Teacher Organization
Sometimes the appearance of being organized can boost your confidence and inspire you actually to become more organized. Perception is reality, so use this opportunity as a springboard to better organization!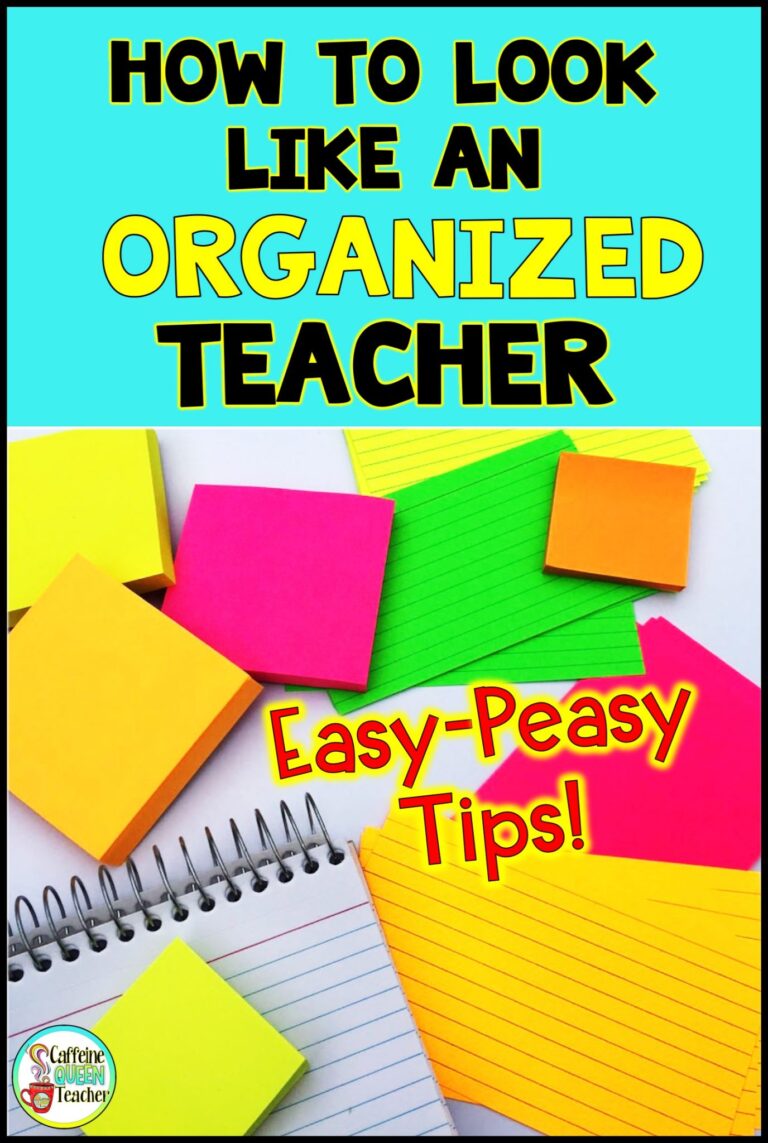 Please let me know what I've left off this list. You can email me at [email protected]. I'll update the list when I hear from you! Just add "Teacher Organization Article" in the Email title.
I'd love to hear your tips to boost confidence and look like an organized teacher!
Thanks, and I can't wait to hear from you!
But before you go –
Don't forget to grab the FREE teaching organization forms set! These forms will help you organize your important information and forms in one place.
Click the image below to receive the free download and sign up for email teaching tips, alerts, and access to the FREE Teaching Resource Library.
Be sure to check out this article on organizing your teacher binders step-by-step.
---