Follow these tips for setting up a Sub Binder, Sub Folder, or Sub Tub to provide your substitute teacher with the forms and information they need to successfully run your class while you're absent.
Plus, be sure to grab the worksheet FREEBIE in this article!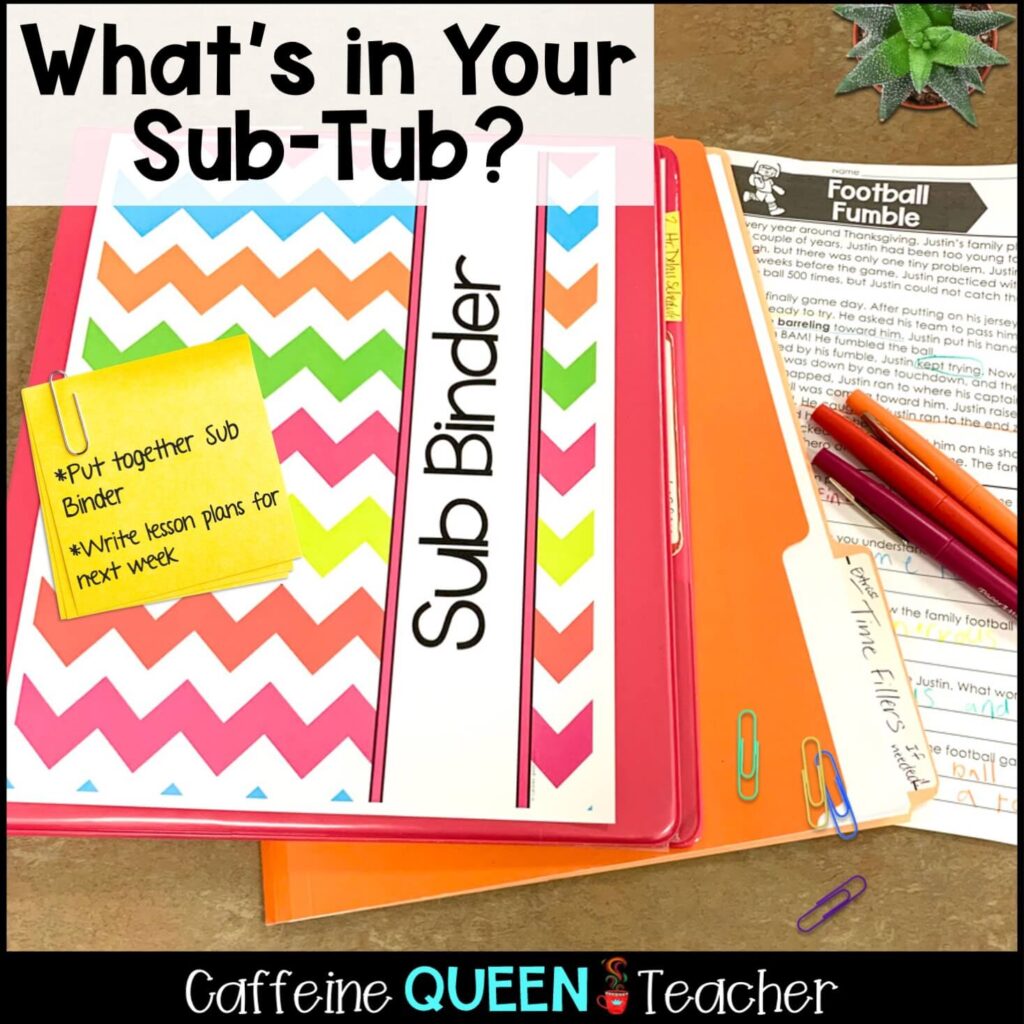 Planning for a sub is a challenge for most of us.
It will take you some time to set up your Substitute Teacher Binder, some lesson folders, and/or a Sub Tub. However, once it's set up the first time, you can quickly switch pages and schedules from one year to the next.
I do believe it's time well spent. It's just one of those things we have to spend time doing.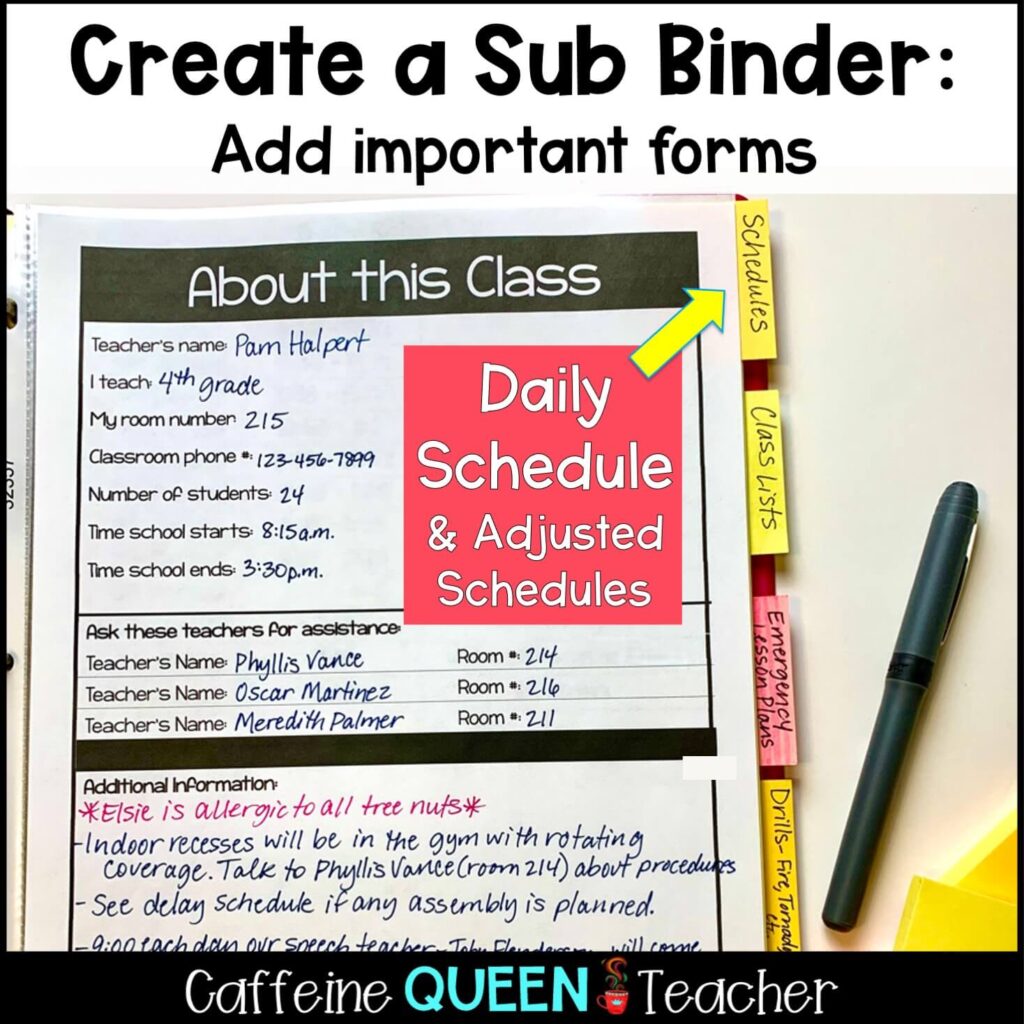 Collect important papers that the substitute teacher needs
Here's a quick list of some forms:
Daily schedule (Bell schedule) – filled with times for each subject, lunch, recess, specials, speech, special ed times, etc.

Delay schedules or special schedules subs may need

Student list – class list – for each class period and all switches

Hotlist – students who need extra care, such as medications, medical information, special needs, or any noteworthy info about handling students with care

Class information – arrival and dismissal info, attendance, lunch count, room number, phone extension, helpful students, etc.

Emergency Lesson Plans – these are extremely important for times when you're out of the classroom unexpectedly. 

Emergency drills – list each drill and what the sub needs to know

Class rules and behavior management you use

Extra Time Folder – fill this up with puzzles, critical thinking skills, task cards, classwork that you didn't have time for (great for review!), etc.

Task card activities

Any additional info the sub might need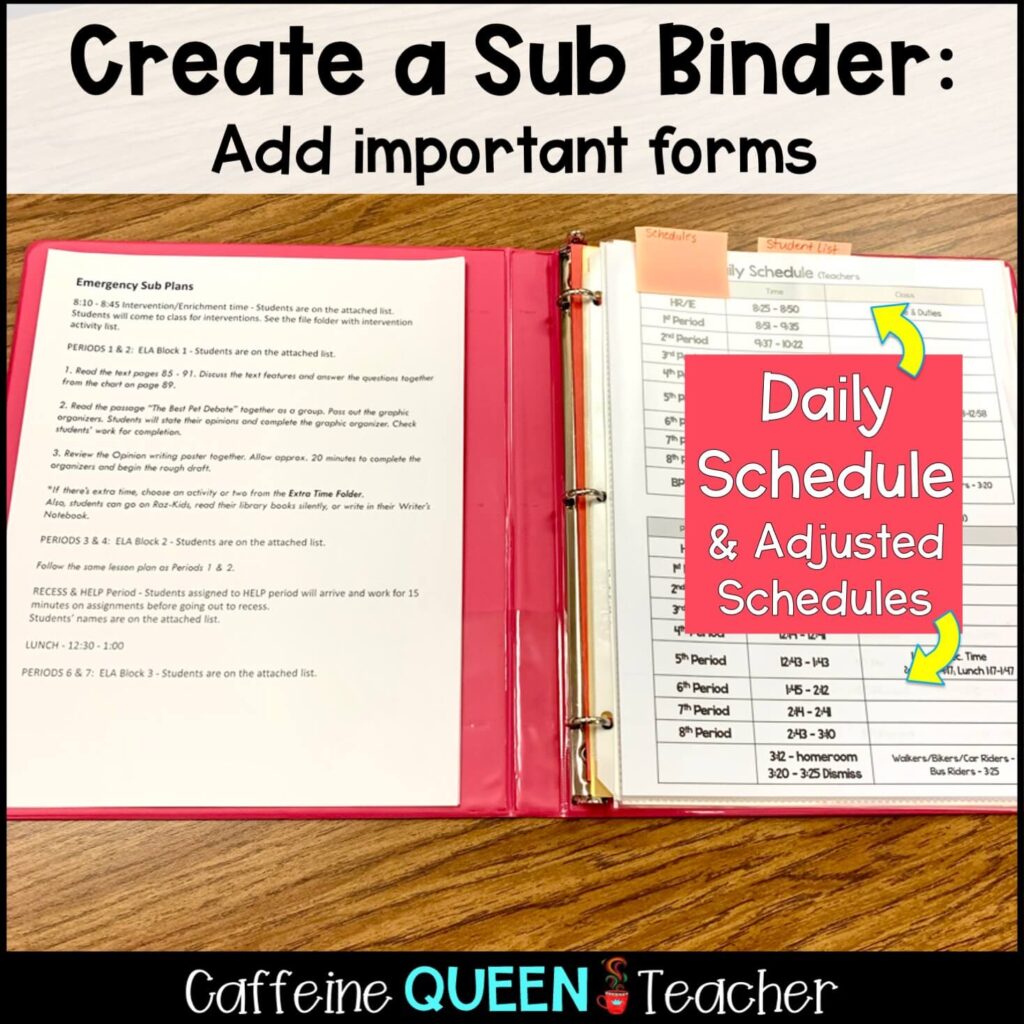 Setting Up the Substitute Teacher Binder
You'll need a binder, sticky notes (small ones to create tabs), and page protectors.
I usually assemble the forms in the order that I feel makes the most sense. The essential papers go inside page protectors. Double-check your class list to make sure it's up-to-date. I run several copies of it because some subs use them for attendance and write on them. I place the copies inside the page protectors.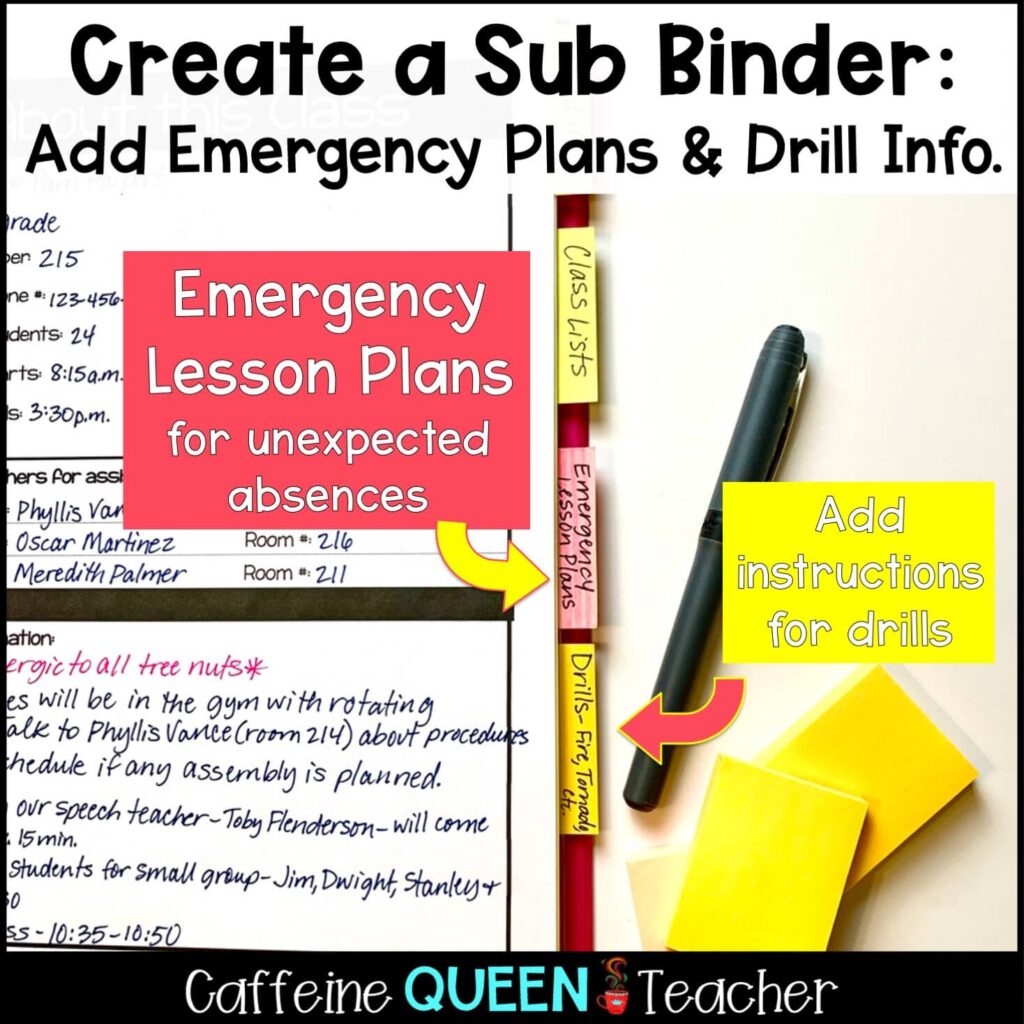 Once you have your forms in the page protectors, use sticky notes as tabs – like in the image above. They can stick out from the side of the page protectors so the sub can find what they need quickly and easily. The smaller-sized sticky notes are perfect for making tabs.
Be sure to add Emergency Sub Plans.
Hopefully, you'll never need Emergency Sub Plans, but they'll be ready just in case.
You'll want to add Emergency Sub Plans when you're unexpectedly out of the classroom and can't prepare lessons. Sometimes we feel sick and can prepare ahead of time, but other times it sneaks on us out of the blue, and we aren't up to running into the school while sick to prepare. That's one thing covid taught us – prepare for the unexpected.
Your emergency lessons should be lessons and activities that can be taught at any time of the year. Review lessons are great. Task card activities are wonderful. Have some ideas prepared, copied, and ready to go at all times.
What's the "Extra Time Folder" in your Substitute Teacher Binder?
If you're not already doing this, you'll like this idea – it's quick and easy to keep filled, and best of all – it's WIN-WIN-WIN for your students, your sub, and you!
The substitute teacher can use the Extra Time Folder to keep students engaged and working.
It's simply a file folder filled with any activity that would benefit your students.

Often after teaching, I have a few sets of papers/worksheets that I never got to use during class. Instead of recycling them, toss them into your Extra Time Folder.
Even if a sub doesn't use them for months – they'll be great for reviewing important skills when your sub pulls them out and uses them. Plus, your sub will appreciate having extra MEANINGFUL work for your students if one of your lessons is too short and there is extra time.
We all typically agree that when students have downtime, that's when the trouble starts.
So, anytime you have extra papers, you can toss them into your "EXTRA TIME" folder.
FREEBIE – Here's a FREE Common Nouns and Proper Nouns page that doubles as an Ice Breaker or Getting-to-Know You page! Click HERE or the image below to download this List of Favorite absolutely FREE to start your Sub-Tub! (The worksheet will download immediately to your computer! Check your downloads folder).
If you're interested in the Sub forms found in this article, like the binder cover above, you'll find them in the Teacher Binder Set.
If you're interested in the "Football Fumble" reading page, you'll find fiction stories like that in the Reading Comprehension Passages Set.
Would you like to read more about the Teacher Binder Set with forms for substitute teachers? Then, you'll find this article helpful:  Teacher Binder Organization Step-By-Step.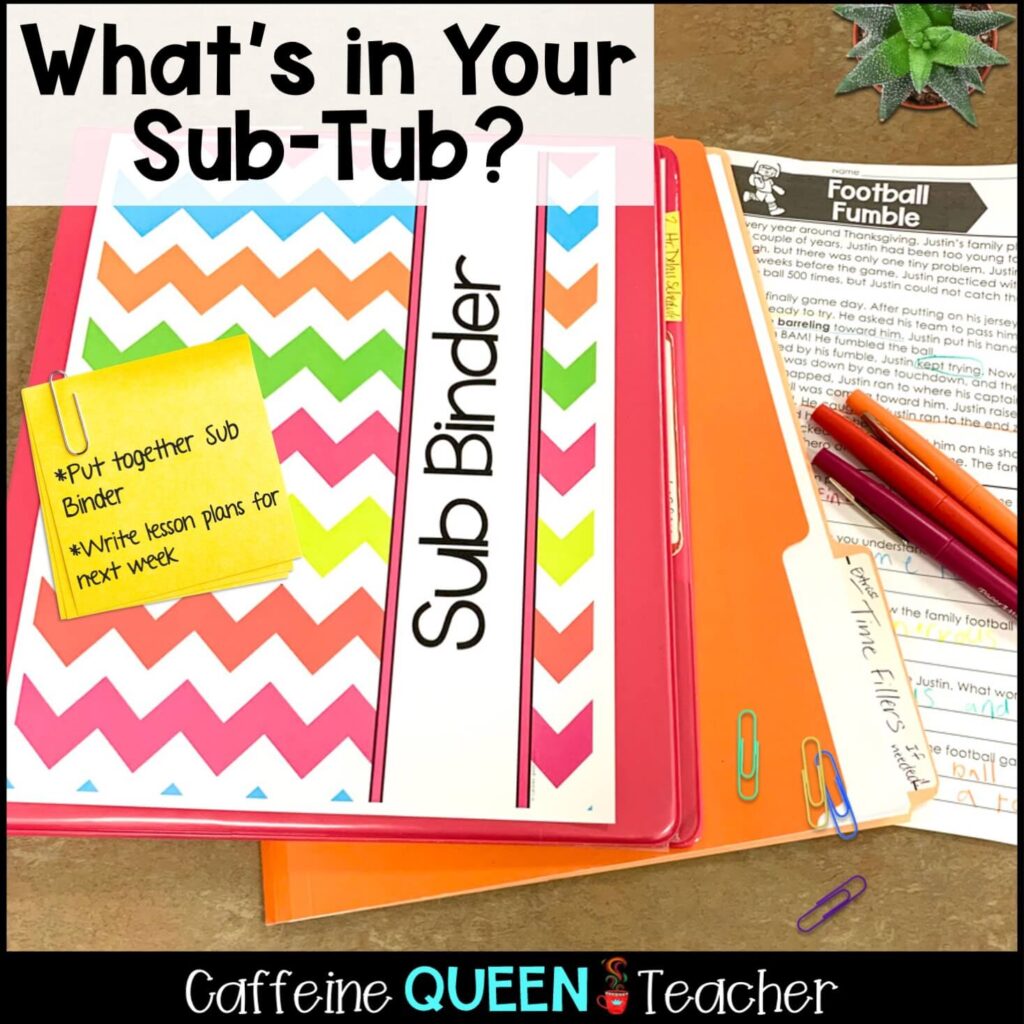 Be sure to PIN THIS ARTICLE for quick reference later!