By the end of the school year, almost every teacher starts feeling teacher-tired and burned out. How can you ramp up the energy and give your students the perfect end to the best school year yet?
Keeping students engaged right up to the last day of school is difficult. You're tired of planning, tired of thinking, and just tired of feeling tired.
Use the suggestions below to help you plan out the best last few weeks of school.
The end-of-year activities below will help keep your students engaged and motivated! Plus, they'll remind your students how fun learning is and give them lasting memories before they head into the summer break.
Consider asking students for suggestions on activities that they'd enjoy during the last few weeks of school. Try to incorporate a few of their suggestions. Your students will feel more excited and involved, which leads to better behavior and more time for fun!
Class Team-Building End of Year Ideas
These activities can be completed as one-off lessons/exercises. Some of these will require some planning ahead of time. Best of all, they'll help your class bond and students will enjoy their last few weeks together.
Graffiti Wall: Set up a poster board or bulletin board in your classroom. Let students add messages, shout-outs, memories, and pictures. They can be as creative as they want to be. This graffiti wall can be left up in the room for your students to admire during the final weeks of school. It's a great place to take photos of students for them to keep as memories.
Summer Reading List: Work with the class to create a list of books they can read over the summer. Students should recommend books they've read that they think their classmates would enjoy. (This is an excellent opportunity to write some book reviews!) You can also add books that you think students will enjoy. Pinterest is full of book lists if you need some ideas!
Book Review: Need a quick way to review books in your class? Try these quick Story Elements Flipbooks. You can use them with any book, so students can review the same book or different ones.
Library Trip: After making a summer reading list, you could plan a trip to your local library. *Many libraries now offer an app that allows students (and everyone!) to borrow and read books on their electronic devices. Consider inviting a library representative to visit your class and set students up with a library card and the app (with parent permission, of course).
Escape Room: You can plan a simple escape room, find pre-planned ones on Teachers Pay Teachers or work with students to design one for their classmates. This is a great activity to encourage team building.
Whole-Class Project-Based End of Year Ideas
Group or whole class projects are fantastic for increasing class morale at the end of the school year. They give students a purpose for the last few weeks and provide an opportunity for students to work together. These are the types of projects that leave a lasting memory for your students over the summer.
Yearbook: Work together as a class to create a yearbook that all students can take home. It can include articles, memories, and pictures. Students could also create a scrapbook.
Class Newspaper: Your class can collaborate on a class newspaper. Let them report on events from the past school year. Was there a school play? Important sporting event? School field trips? They can interview classmates, teachers, and school staff. Students can report on these topics, and they can be published as a "newspaper".
Design Project – STEM: Let students work together to create something using design skills. They can work in small groups, as partners, or even as a whole class. Students could make treasure boxes, design clothing, build something, or learn a new skill. A popular project is designing and making a pinball machine!
Cooking: See if you can plan out a menu and get your children cooking! This is a great way to share memories with your students. Try baking bread, pizza, mixing no-bake cookies, or even chopping a healthy salad. Food brings people together!
Gardening: Students can make a garden at your school or plant flowers or plants to bring home. Using a water bottle to make a self-watering plant is always a fun and environmentally-friendly activity. Plus, students can keep the plants over the summer as a memory.
Butterfly Craft Writing Activity: Students can write narrative stories or reports on topics of interest. The stories or reports can be written on these spring butterflies and displayed in the hallways or on classroom doors.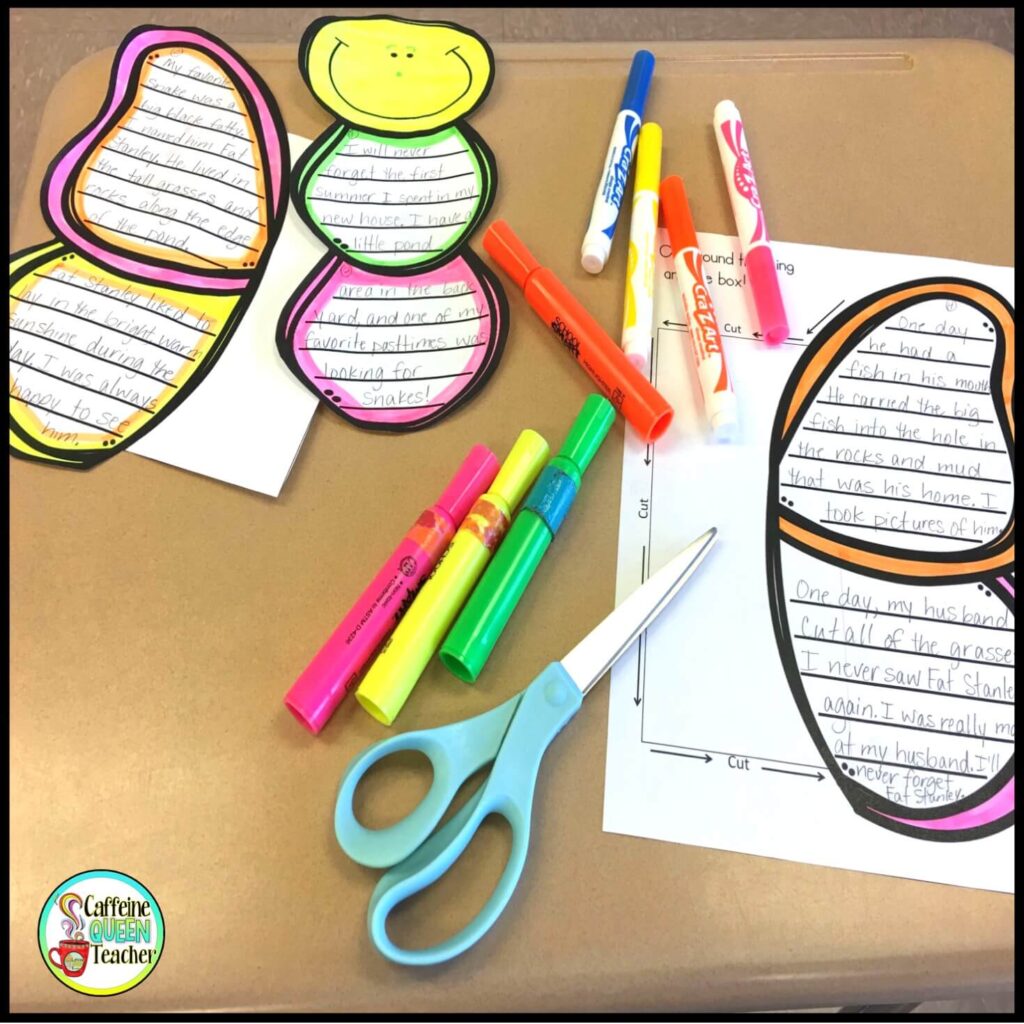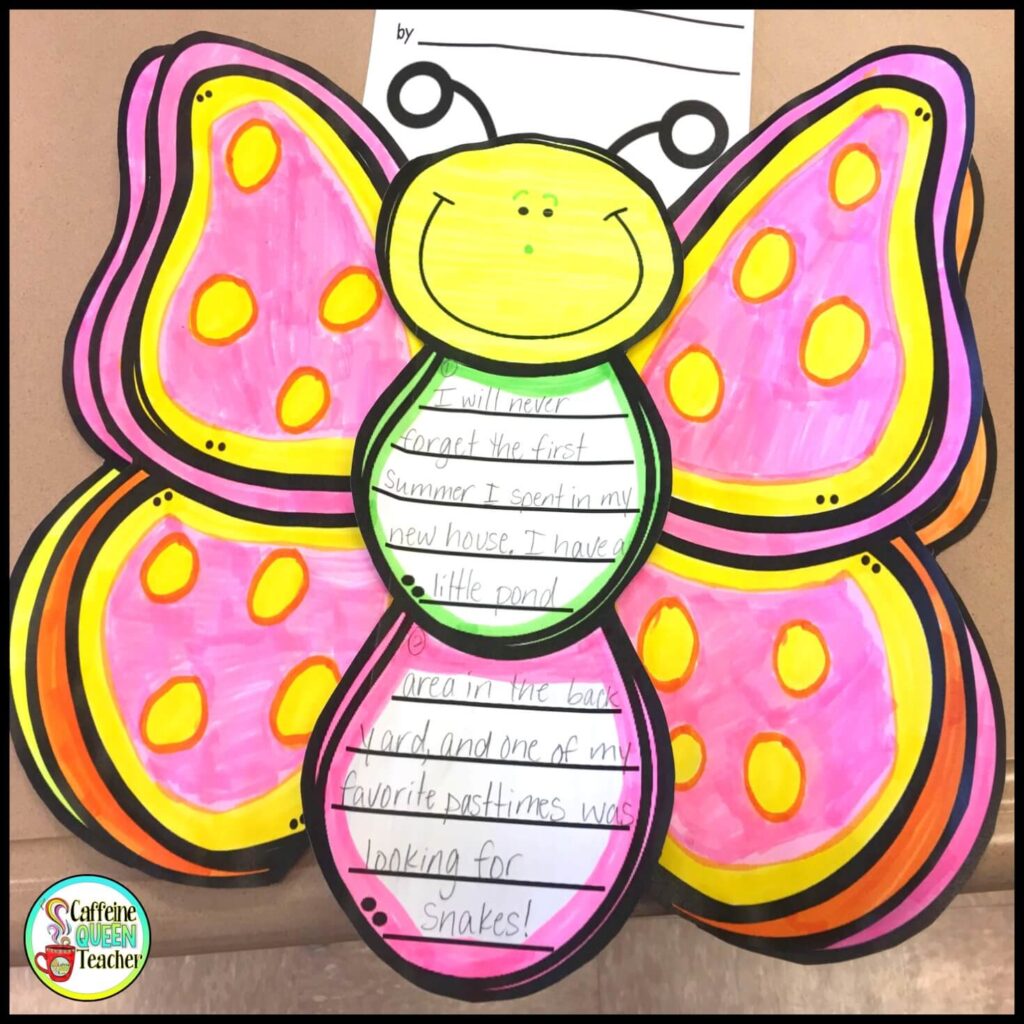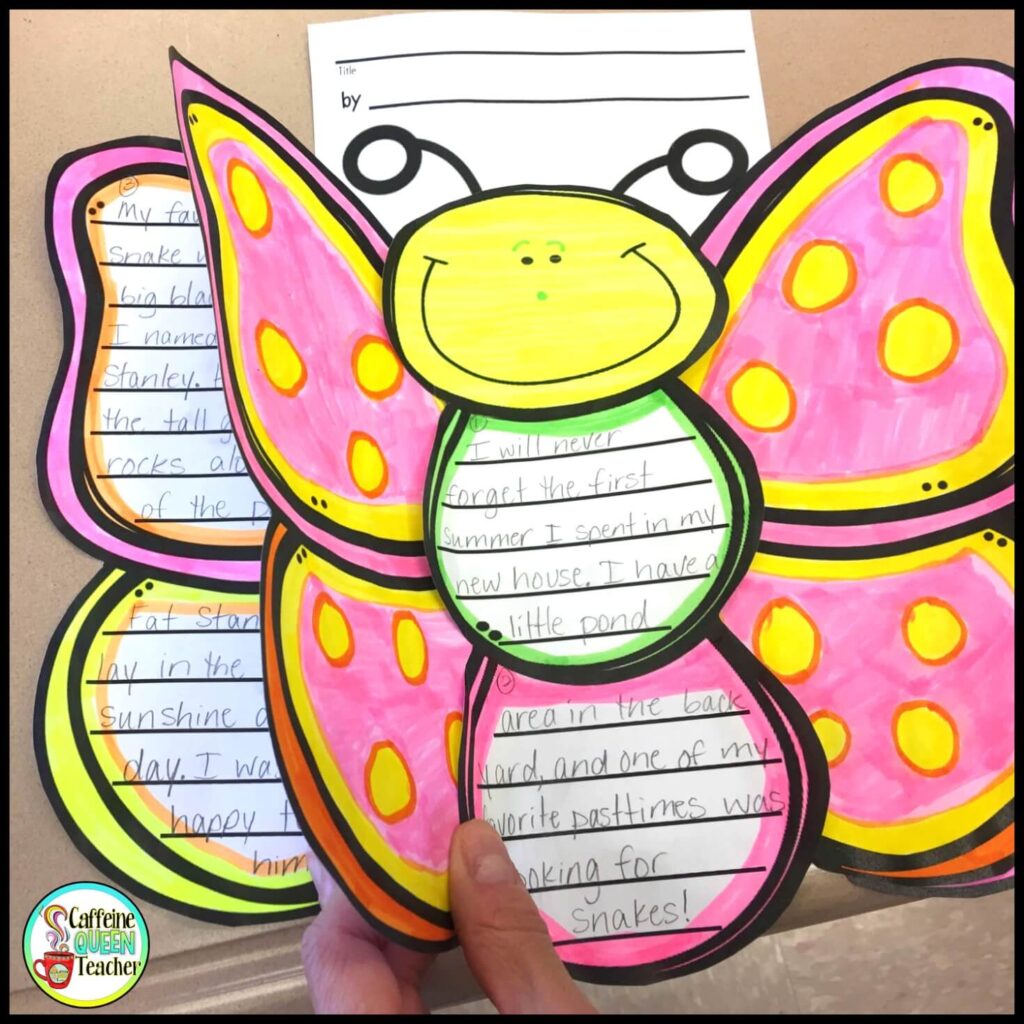 Whole School End of Year Activities
These activities can be planned across the whole school, grade level, or just for your class. All these ideas are great ways to help children see their school as a community.
Sports Day: A sports day should be planned for everyone to participate in. Older students could prepare this for the younger ones to join in and participate. Include running races, ball throws, bean bag races, egg and spoon, three-legged races, and much more! Keep it fun and engaging. Encourage students to support their team/group for spirit building. The point is not about who is the most athletic, but who can have the most fun and be the loudest!
Picnic: Students could be taken outside on a warm day to enjoy their lunch on the grass. They can bring in blankets and outdoor games to enjoy. Let your students sit with their friends and enjoy the sunshine. You can even surprise them with ice cream or popsicle treats.
Art Week: Take a whole week and dedicate it to art! Pick a theme that the entire school can plan various art activities around. There could be a whole class project, individual projects, and group projects. Plan to integrate art into your math, reading, science, and social studies lessons.
STEM Day/Week: Again, take a week or a few days to focus on STEM (Science, technology, engineering, and mathematics). Students can work together to complete STEM-related projects like designing a popsicle stick bridge or the egg drop challenge. Let students perform science experiments like creating ice cream or designing a boat that will float.
Class Assembly/Production/Talent Show: Each class can plan an end-of-year assembly or production for the whole school. Classes could write stories/narratives that can be changed into plays for other classes in the school to watch. Encourage all children to write their own songs, stories, and skits – and be creative!
Games
Incorporating games will keep the energy up! Children love to play games, and they're a great way to build and secure friendships. Additionally, students will leave for the summer with fun game ideas to play on their own.
Game Day: Why not pick one day and dedicate it to playing games? You can choose organized games, card games, outdoor games, ball games, or board games. More ideas include:

Card Games: Uno, Rummy, Go Fish, or Crazy Eights
Board Games: Yahtzee, Monopoly, Memories, Battleship, Chess, or Checkers.
Indoor Games: Bingo, Heads-Up 7-Up, Charades, or Pictionary.
Outdoor Games: soccer, soccer-baseball, tag, hide-and-seek, frisbee, hopscotch, or a scavenger hunt.

Create your own Game: Get students working with partners or in small groups to create their own games. This could work in two ways.

The first way is for students to recreate a game they already know using various resources that can be found in the classroom.
The second way is for students to create a brand-new game. They must write rules, make a game board and pieces, and create a logo.

Task Card Games: You can use a variety of task cards to review academic concepts taught earlier in the year. Set up task cards around the classroom and let students choose the ones they'd like to work on. Check out these fantastic task card games!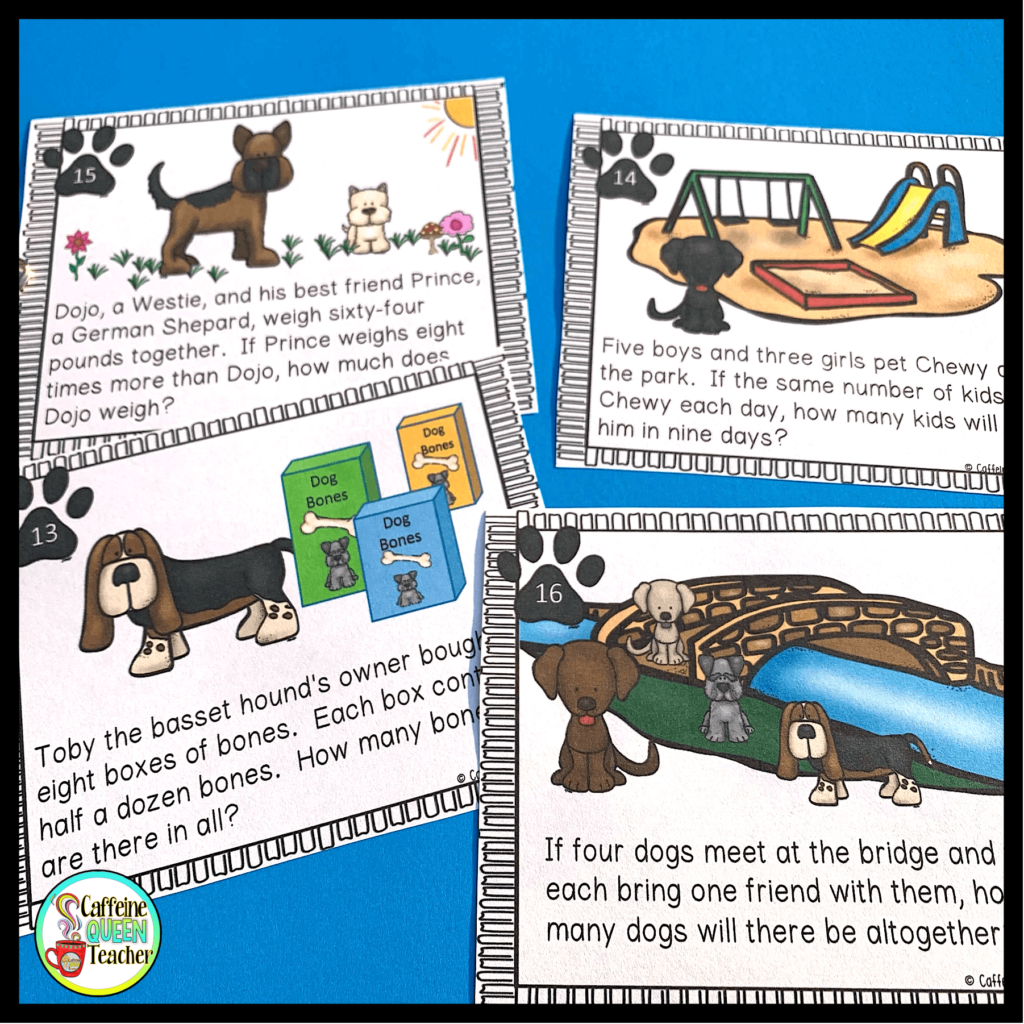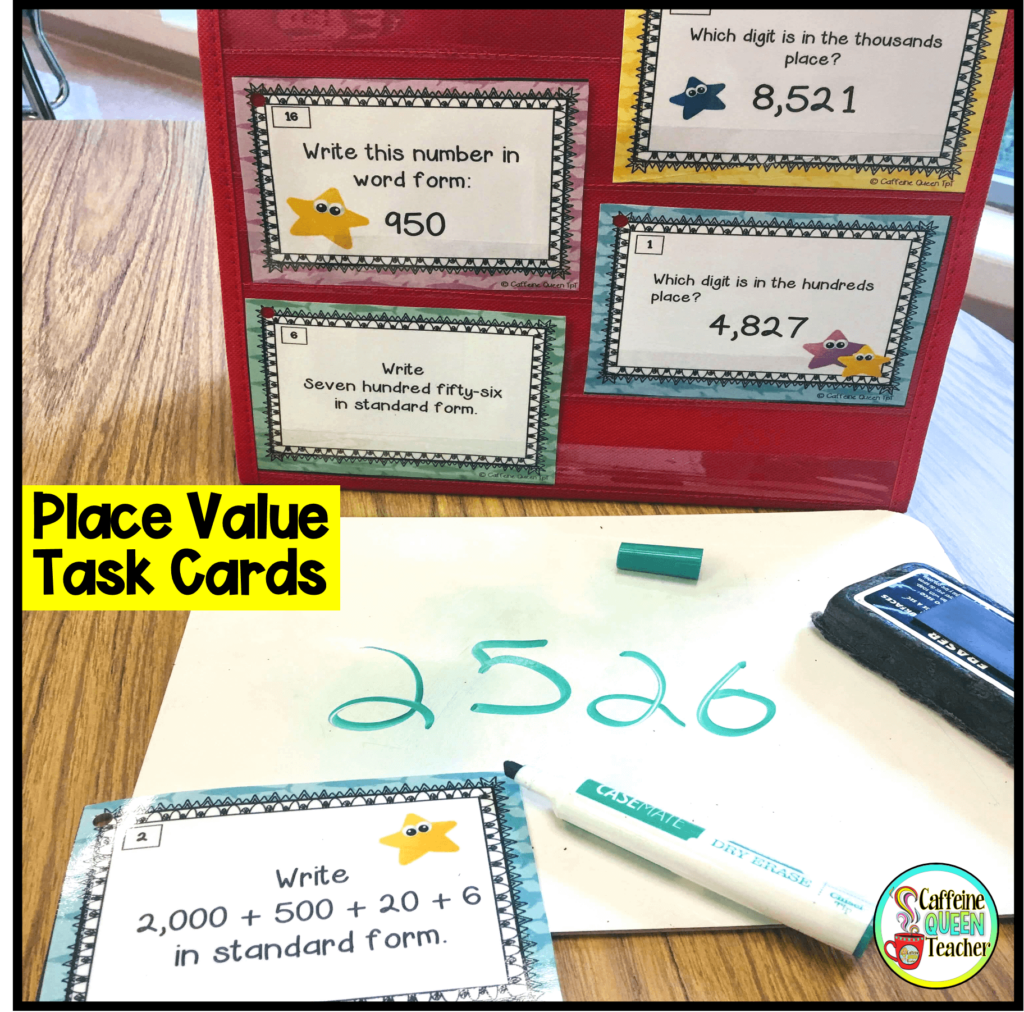 CLICK HERE to learn more about How to Energize Your Teaching with Task Cards – Keeping students engaged in your lessons can be easier than you think – try these simple teaching tweaks today.
Extra Time End of Year Activities
Below are some extra activities and ideas to incorporate into the last few weeks of school.
Goals/Aspirations: Spend some time discussing and writing goals for the year ahead and the summer. What do your students want to achieve over the summer or next year? Do they want to improve their reading skills? Times Tables? Soccer? Singing? Let students choose meaningful goals and write about them. Encourage them to break their goals into actionable steps.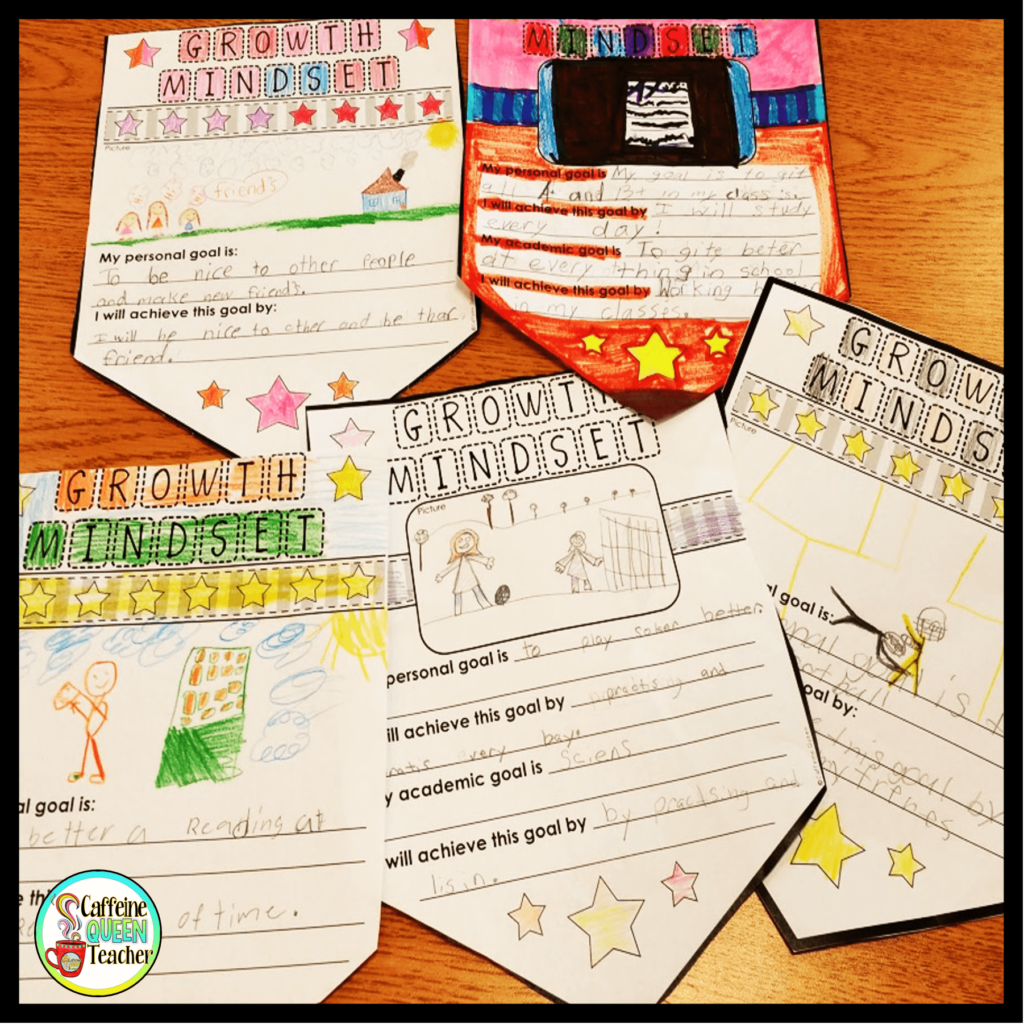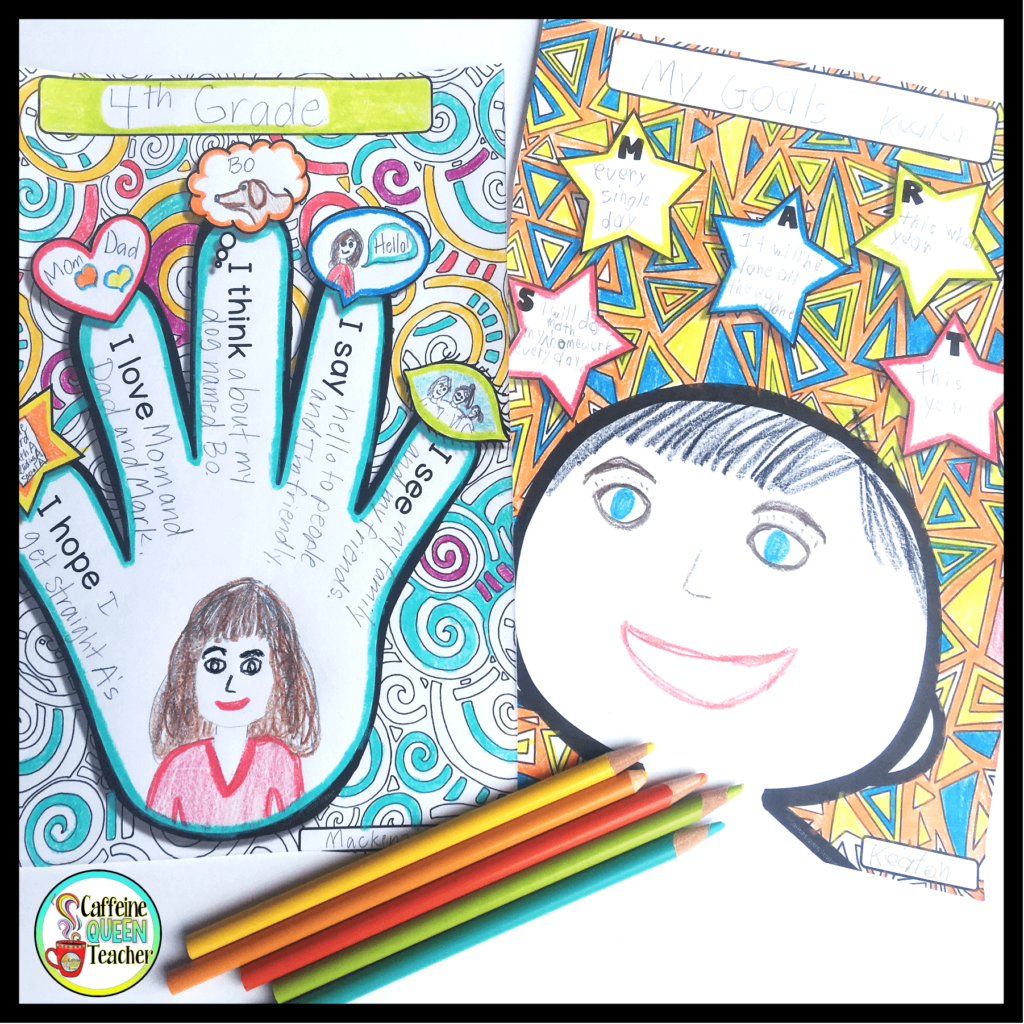 Write letters or make cards for next year's students: Students can write letters to next year's incoming students. For example, students leaving fourth grade can write letters to give to the students who will be entering fourth grade next school year. They can draw and decorate cards.
Puzzles and Coloring Pages: I usually provide a variety of puzzles and coloring pages for students to work on during movies, videos, and during extra time. These word searches are perfect for the end of the year.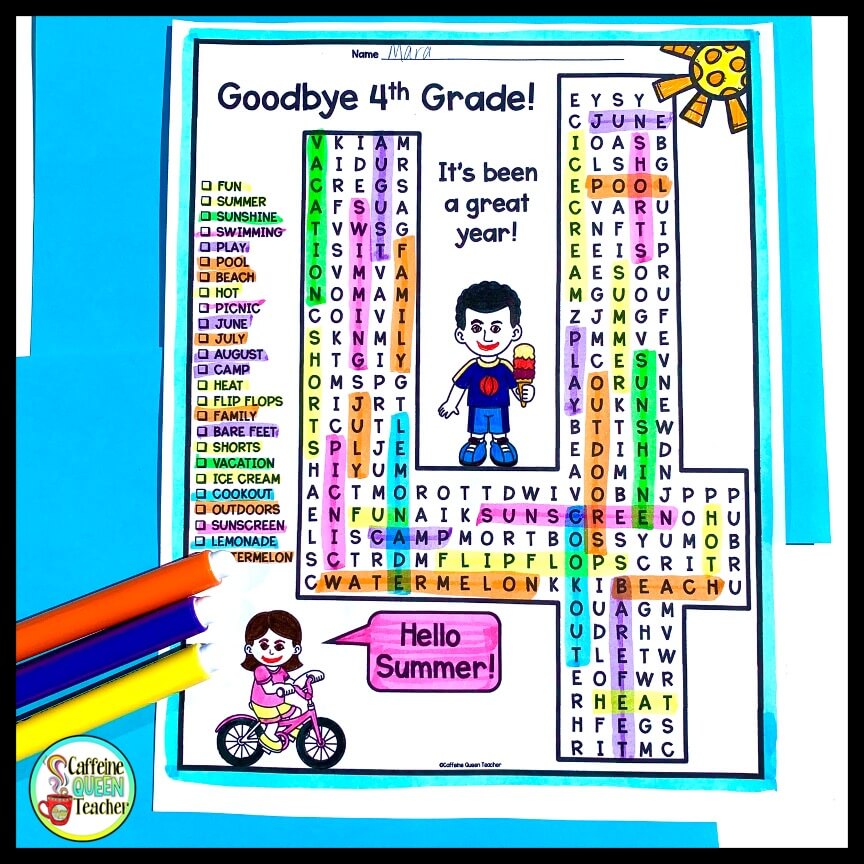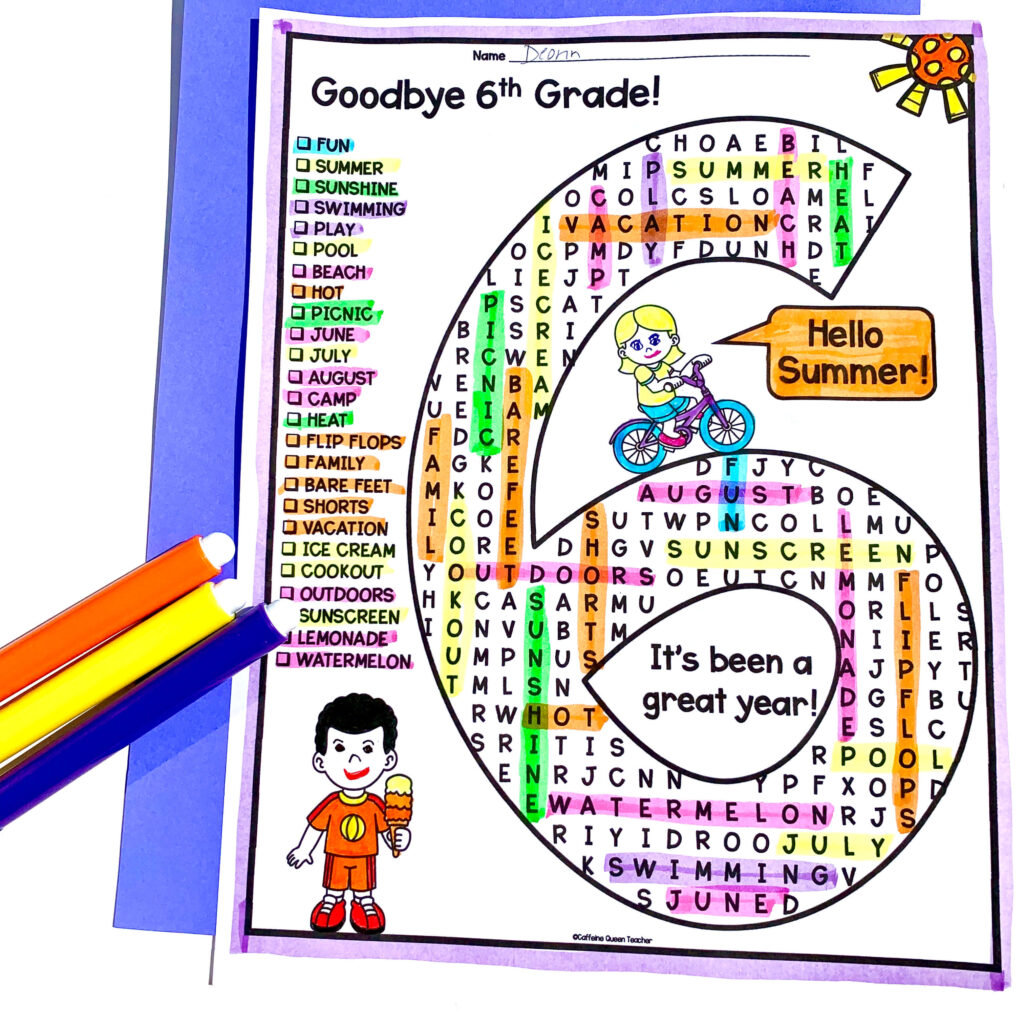 End of Year Writing Fun: Choose a writing craft for students to write their stories or reports on. There are so many themed crafts to Create.
The one shown below is a quick and easy flower writing craft that comes in three different sizes. It's a great way for students to publish a 5 sentence paragraph.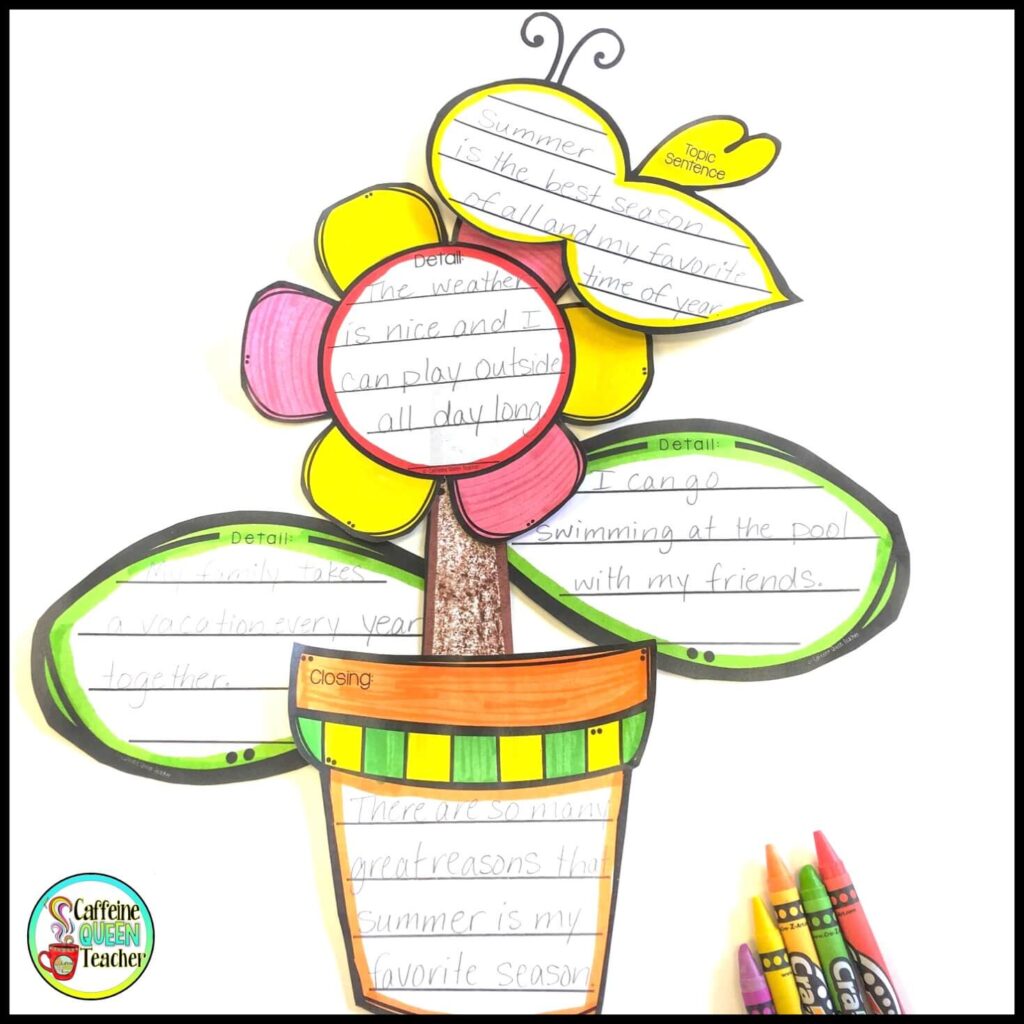 Hopefully, you found clarity and help for your end of the school year planning. These activities will provide your students with lasting memories of a tremendous year.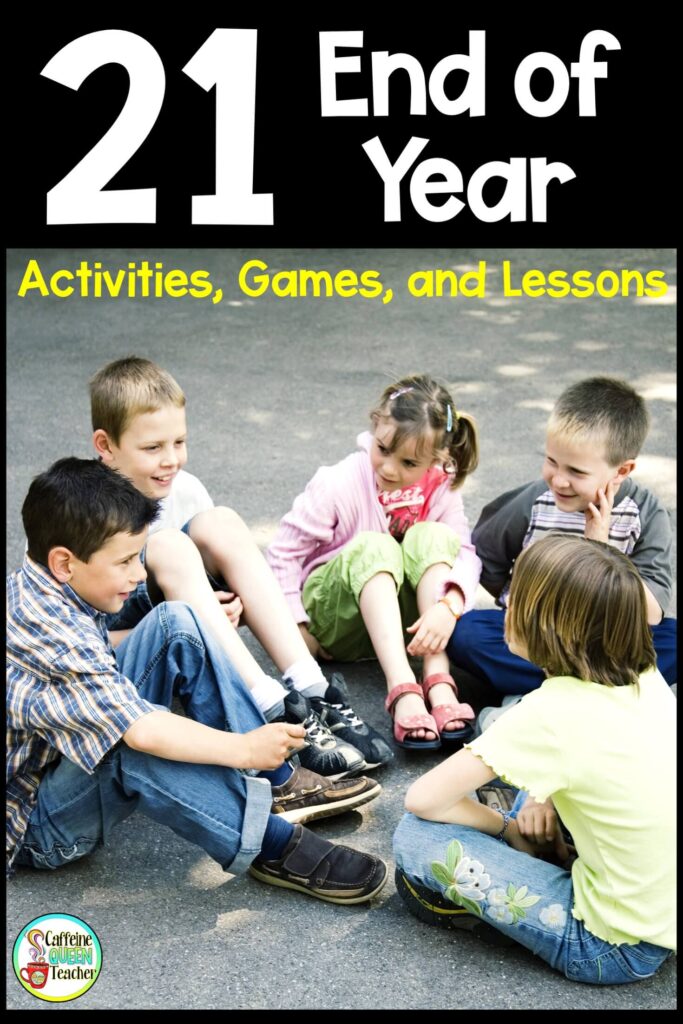 Good luck in your last few weeks of school!
Need MORE ideas for the end of the school year?
CLICK HERE to learn How to Pack Up Your Classroom at the End of the Year – Ready for the end of the school year? Be sure to grab the FREE checklists to make packing up a breeze.
CLICK HERE to learn about End of the Year Award Party for Students – Low-cost end of the school year class party ideas for teachers, including a student award ceremony with student award certificates and donut banquet.
CLICK HERE to read about Easy Ways to Boost Student Engagement ANYTIME During the School Year – Use these strategies for student engagement to grab and keep students' attention today.