Here's a step-by-step guide for teaching students to identify textual evidence and support answers to text-based questions with text evidence from passages.
Do you have as much trouble as I have with convincing students to look back in the reading and find answers from the text?  
To provide high-quality written responses to questions, students need to refer to the text to identify and cite evidence from the reading. Here's the step-by-step approach I use when teaching students to refer back to the reading. I love how these interactive passages help students with fluency, comprehension, vocabulary, and written response practice.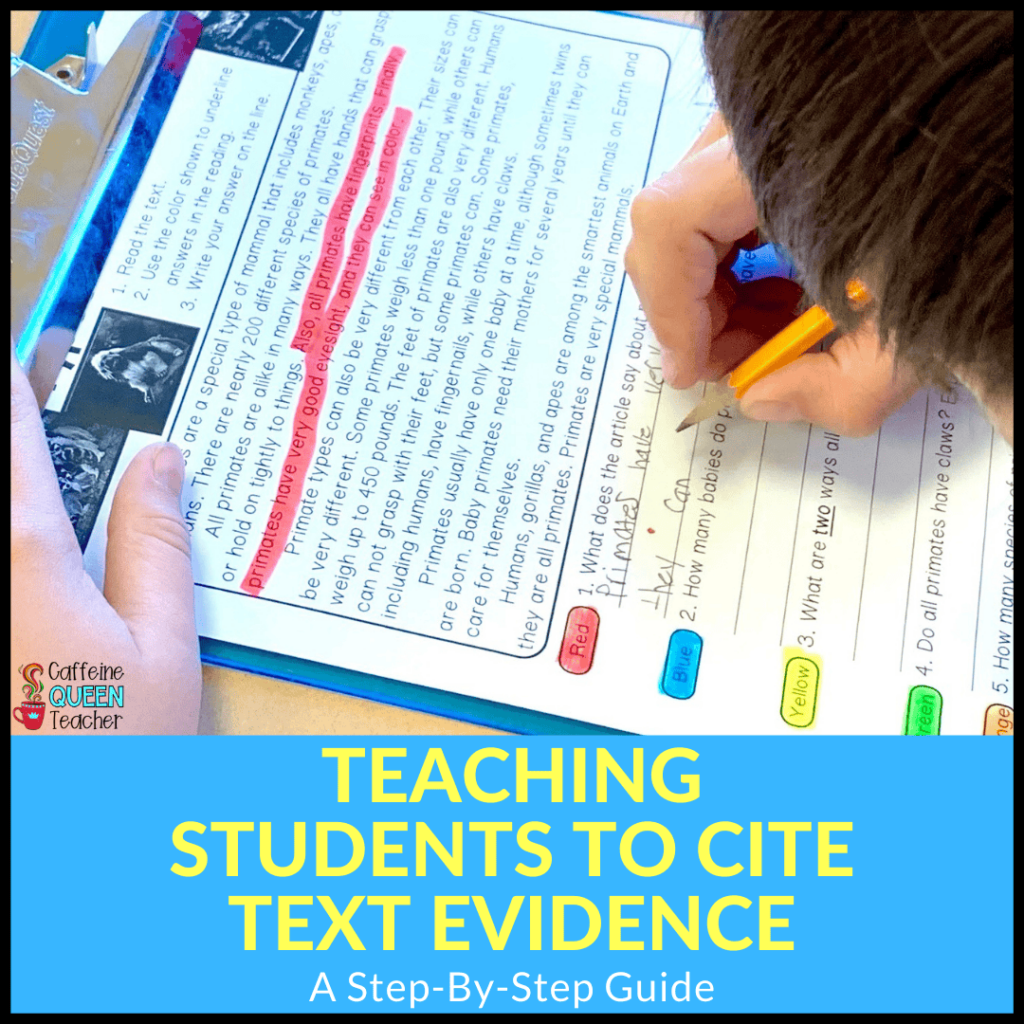 Start by choosing the right passage.
Keep these three important considerations in mind when choosing a passage to teach this important skill: 
1. Choose a basic passage.
When I first introduce the concept of finding text evidence to my class, I begin with a short nonfiction passage that's slightly too easy for my students. If the passage is too difficult and beyond their frustration level, students won't read it. And they won't build these essential skills.
For this particular introductory lesson, I chose a nonfiction article about Mandrills.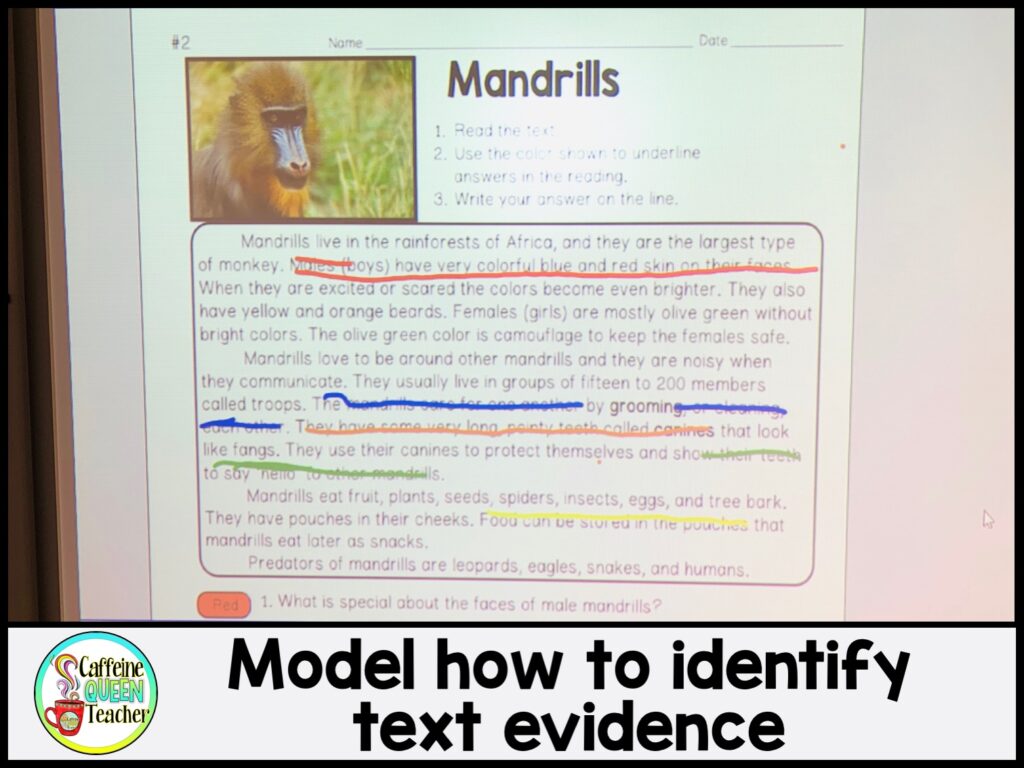 2. Provide success and confidence.
Students need to experience success and confidence with this new skill, which is another reason to keep the reading short and straightforward. In addition, we want our students' primary focus on identifying and labeling answers in the passage rather than comprehension of a complex text.
3. Look for reading passages with text-dependent questions.
The chosen passage should have text-dependent questions – meaning that the information is directly stated in the reading. Inferential questions are wonderful – but not when you're introducing the skill of identifying text evidence (especially to beginners!)
Students need to look back in the reading selection and locate, identify, and underline the text evidence they need to answer specific questions. If the proof isn't stated directly in the article, students will experience frustration. However, that's a more advanced lesson that can be tackled once students understand this concept better.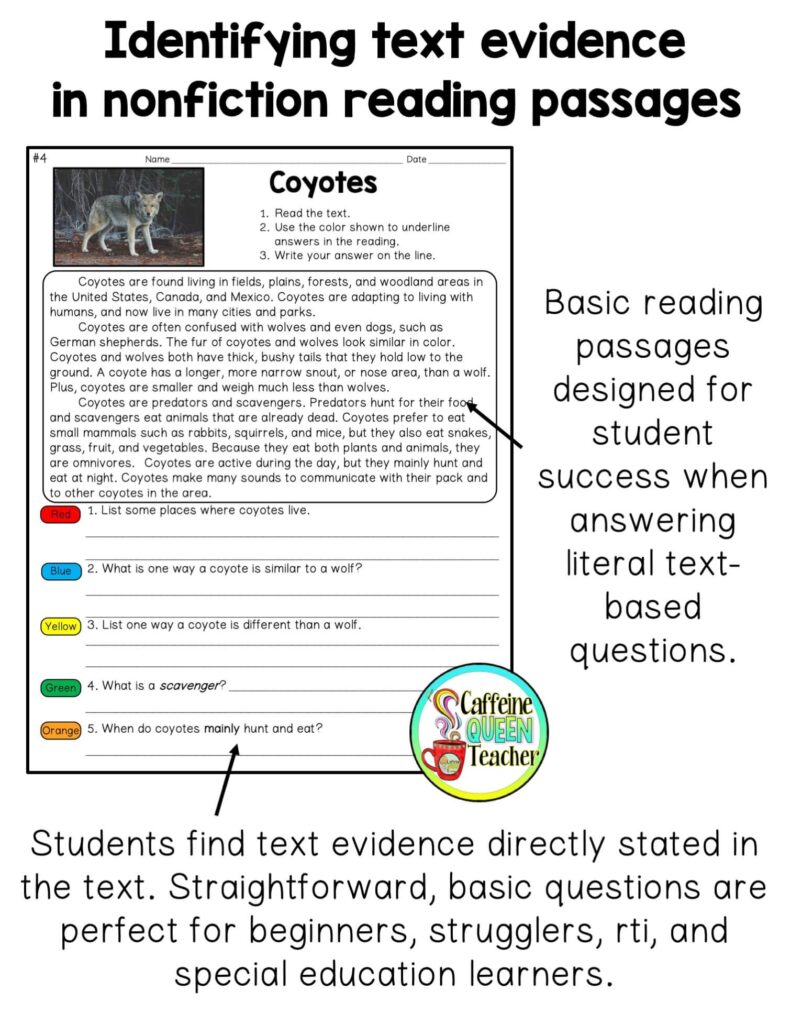 Introducing important vocabulary
I typically start the lesson by projecting a passage on the whiteboard in the front of the room. Then, as we read the passage together, I emphasize the importance of reading the entire passage before making any marks on the text.
We read the printed directions together. The first numbered direction was:
Read the text.
Text? What is text? This is the perfect opportunity to make sure students grasp the idea of what text means. And no, it's not referring to a text message on a cell phone.
We discussed that text refers to any written words that have meaning. This is also a great time to point out that the article I'm showing them can be referred to as an article, a passage, a reading, a selection, an excerpt, and the text. These are crucial terms because they're used interchangeably on state tests.
While discussing important vocabulary terms, we also discuss that "text evidence" refers to the answers we're searching for. I discuss the words "proof," "details," and "support" to make sure students understand the meanings.
Read the whole article.
By this time, students need to get busy with the article. So first, we notice details about the photo, and then we jump right into the reading.
When I present this lesson to the class, I read the article straight through without discussing anything. This is because I want total concentration on the words of the passage.
Identifying the text evidence
Step 2 of the directions state:
Use the color shown to underline answers in the reading.
At this point, I briefly share why we need to learn this skill. We cite text evidence as proof that our answers are correct. When we answer questions or share the text with others, we need to go back into the article and find the evidence. That way, we show that our answers can be trusted and believed.
As we scan back through the article to search out the exact correct information needed to answer the question, I make sure to model my thinking aloud.
Once we've identified the correct information from the passage, we read and reread the question. Again, I emphasize that we must make sure we've found exactly the right information the question is asking for. Sometimes I intentionally choose incorrect information to make sure students comprehend what the question is asking for. From there, we make adjustments until we find good evidence and details that support the answer to the question.
Again, this is why choosing a fairly straightforward article is necessary. We need students' brainpower focused on the skill.
Once we find the correct paragraph of the text and identify the necessary words, I model how to underline the proof in the right color.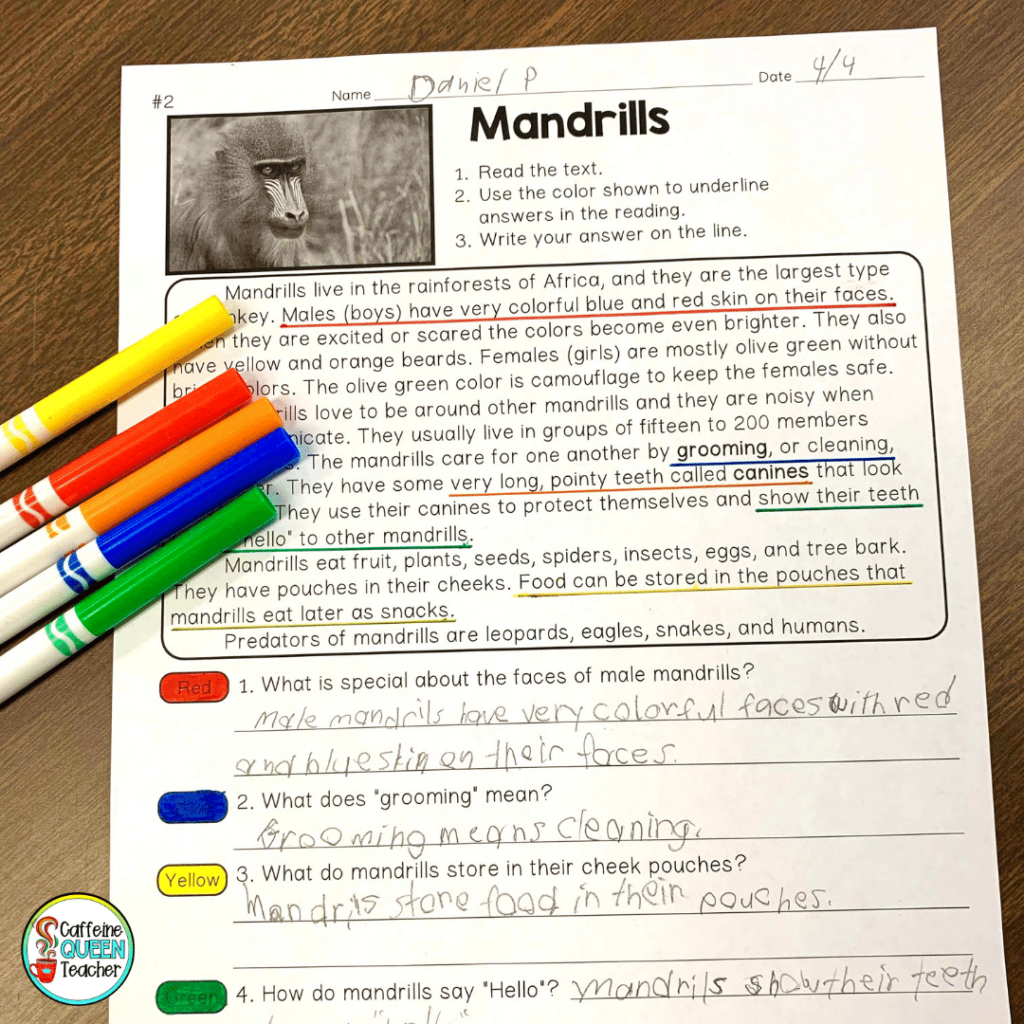 Why the color coding?
Learners benefit from color-coding the text in a powerful way. Not only do the visual colors stand out and make a strong visual impact, but students can more easily manipulate the words of the text. They see at a glance which words are necessary to construct a quality written answer, allowing them to become more actively engaged.
As students read and underline directly on the passage, the skill becomes much more focused. Plus, students enjoy using colored pencils, crayons, or markers to mark up their papers.
Be sure to model how to underline the words rather than coloring directly on top of them. Some students want to color the words so dark that reading the words becomes difficult.
The colors help students identify the exact answer with a quick glance, which keeps students focused. And we know that focused students can craft written answers more easily when the information is easy to find.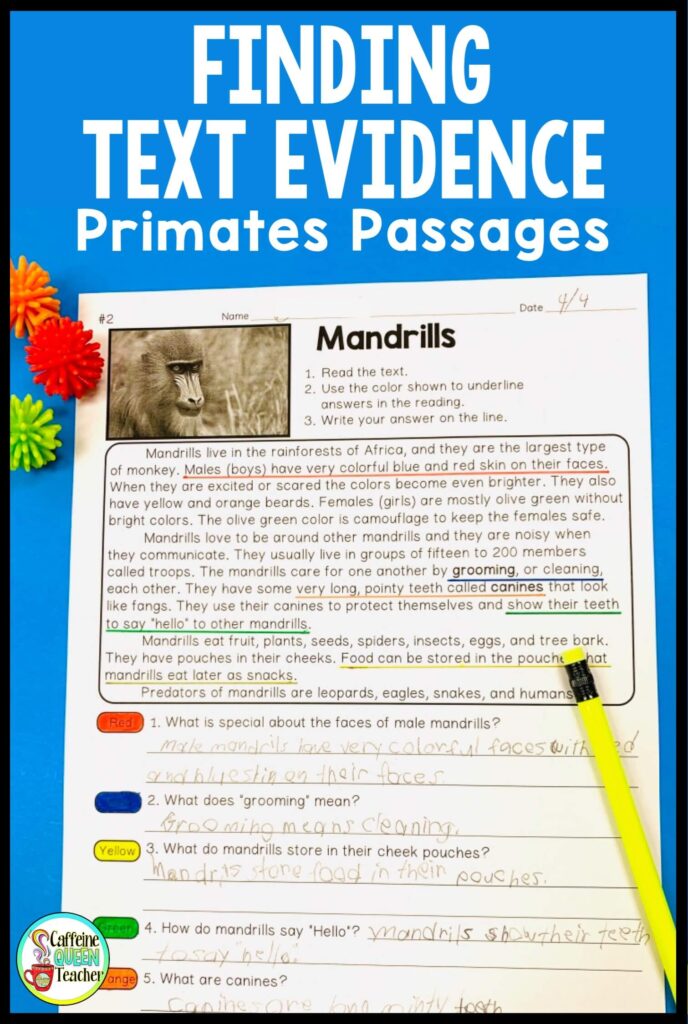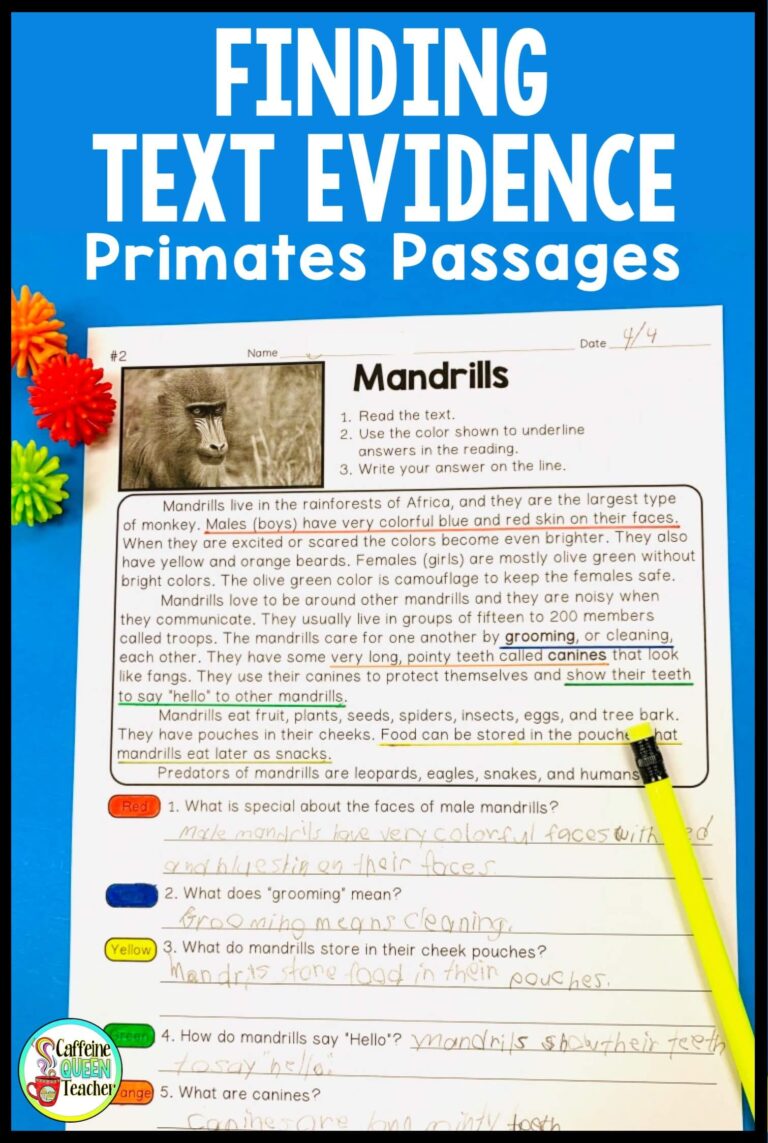 Writing the answer
This is the trickiest part for many students. Once they underline the information, many students want to simply copy the sentence word for word into the answer. Sometimes that works, but other times there's either too much information in the sentence or not enough. Students may also need to combine the words and supporting details of two sentences to make their answers complete.
I make sure to model how I put my thoughts together and organize them for writing. I firmly believe that modeling is the KEY to teaching this concept. Students will watch and imitate your thinking and writing.
I always make sure to model rereading the question several times before answering.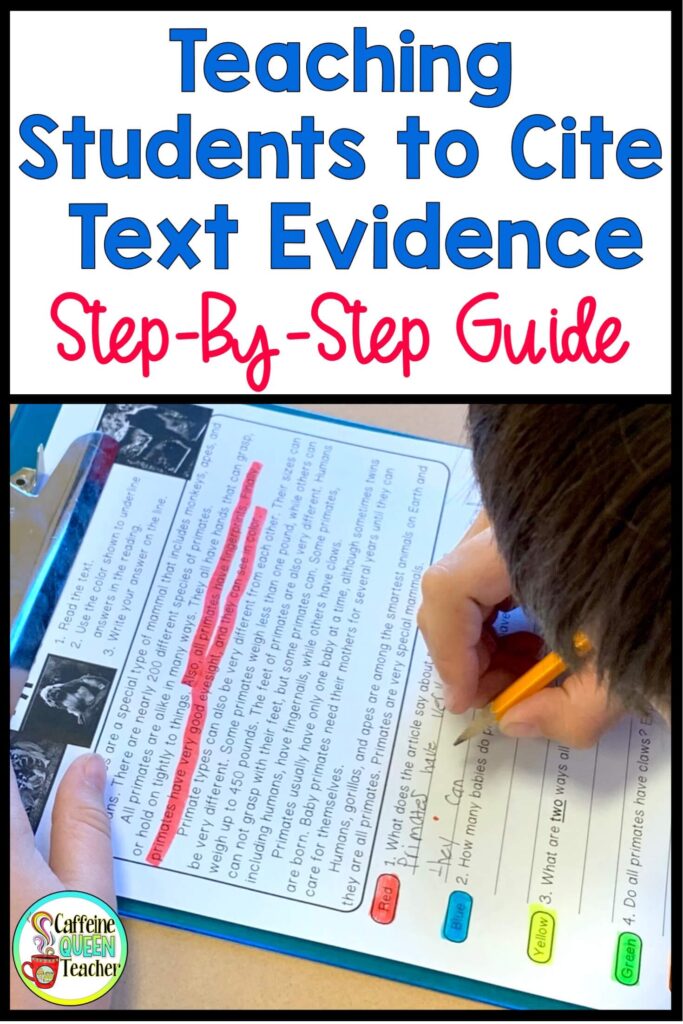 What about digital and distance learning?
You can follow the same general lesson guidelines for distance learning or digital learning at school. If you're using a ready-made resource for Google Drive or already in a digital format, you can simply assign the lesson to students. Many resources are easily differentiated and easily adaptable to meet students' needs.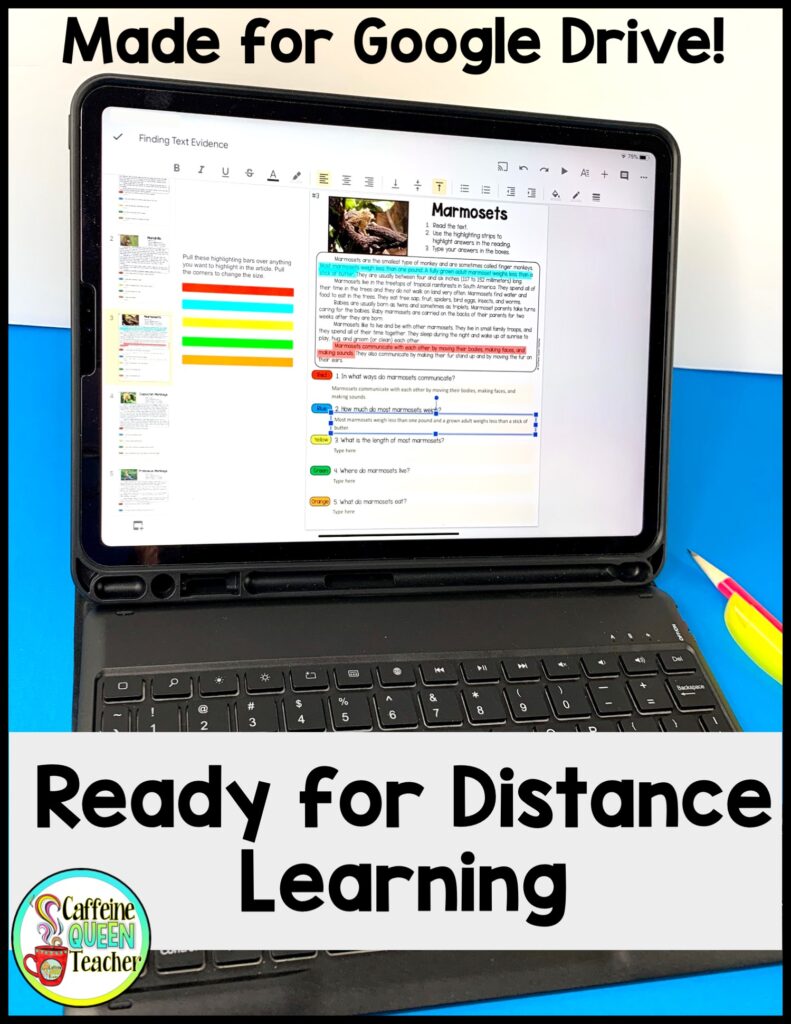 The ready-made reading comprehension passages (in the images) feature highlighting strips. Students can pull the highlighting strips directly onto the reading passages on their digital devices. Teachers can also choose to add typed hints or help in the margins of these digital lessons if a student requires more in-depth accommodations or adaptations. Likewise, if a student doesn't need the added help, teachers can delete it from a student's assignment.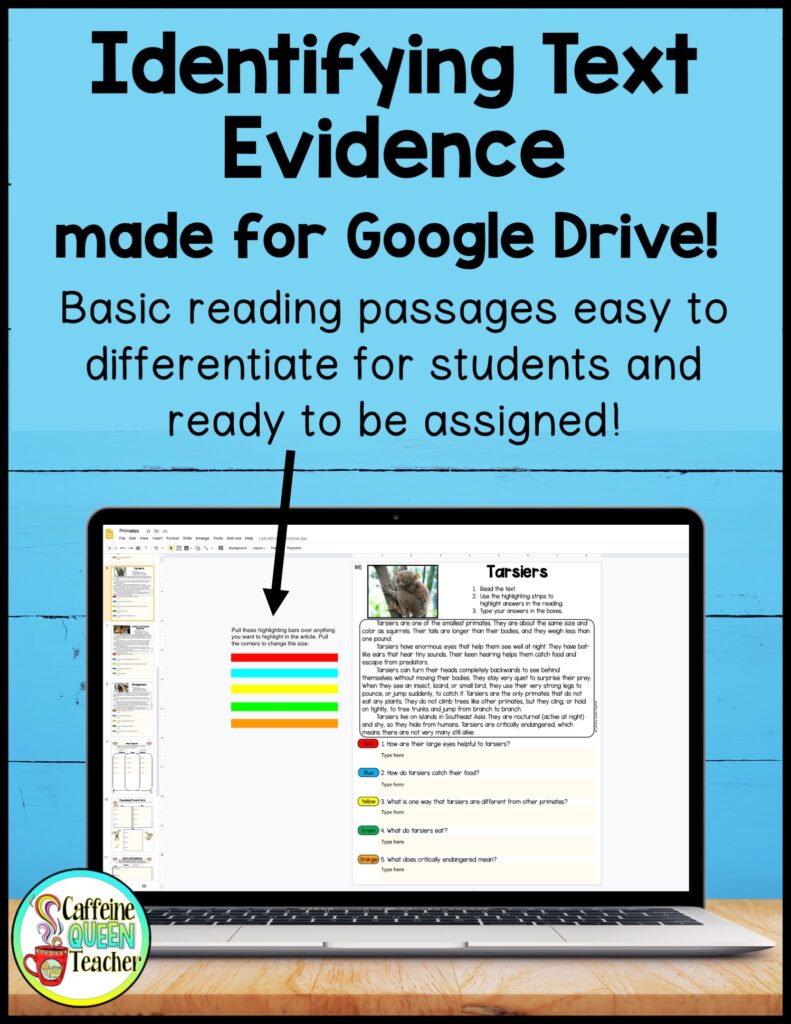 For assignments that are not already digital, it's no problem. You can still assign it to students digitally or for remote-distance learning with just a little additional work. These articles will walk you through the process of converting worksheets into digital assignments.
Writing stems from citing text evidence.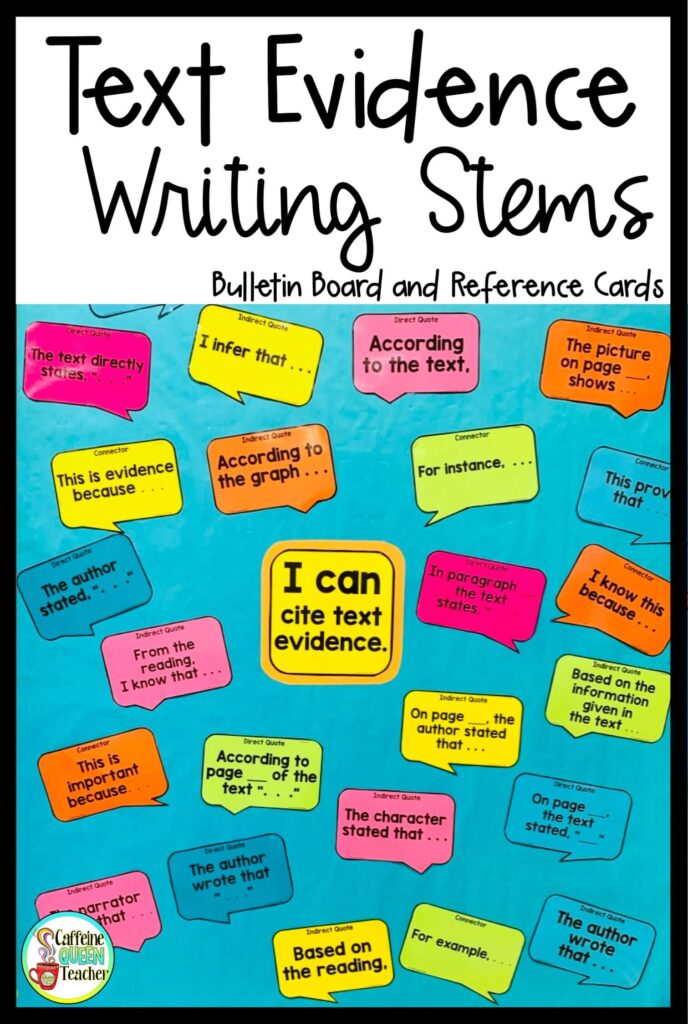 This is the ideal time to introduce writing stems (also known as thinking stems). Writing stems are simply the beginnings of sentences. Writing stems are perfect for giving students a starting point for citing evidence from a text.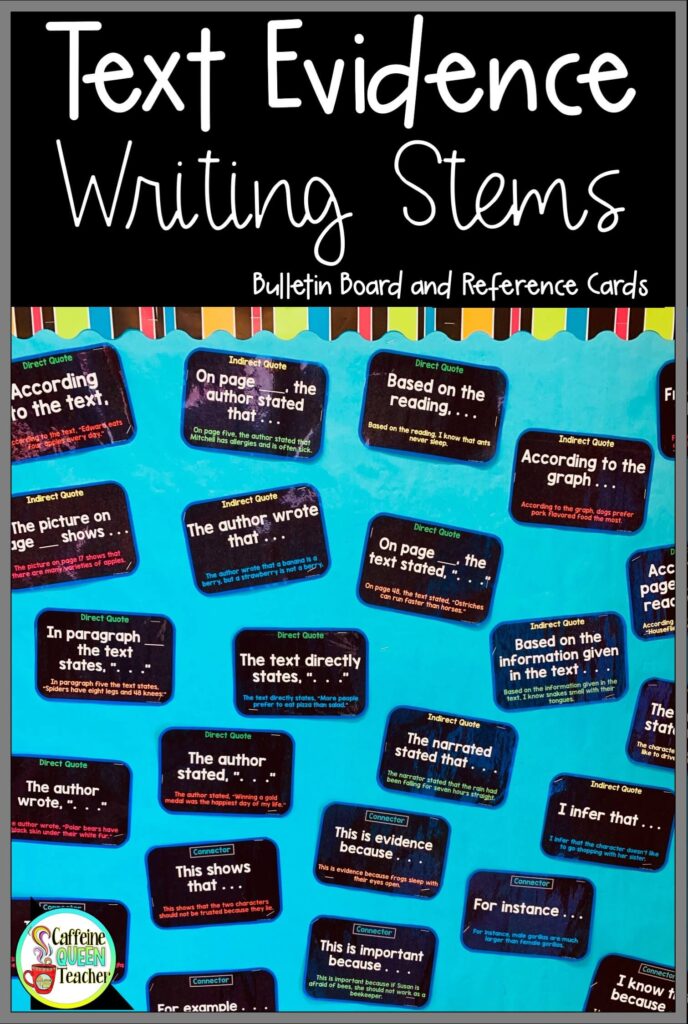 As students work with the writing stems, they grow more familiar with them. Our goal is for students to feel comfortable providing textual evidence, so answering questions becomes a natural part. Eventually, students will no longer rely on the writing stems reference cards. Read more about writing stems here!
Students now have the skills and strategies to apply when answering text-based questions. By the way, these skills are relevant to ALL subject areas. Think about reminding students to use the writing stems during science, social studies (history), and other classes.
Related articles to learn more:
Prepare for Testing with Writing Stems – Writing stems help students answer constructed response questions by citing evidence from the text. Learn how to use writing stems in your classroom. 
Future lessons
Additional lessons you may want to include in the future are:
direct quotes and indirect quotes (paraphrasing) in constructed responses

The RACES strategy (or a similar approach) for written answers

A mini-lesson on evidence versus details
Where can I get the resources used in this article?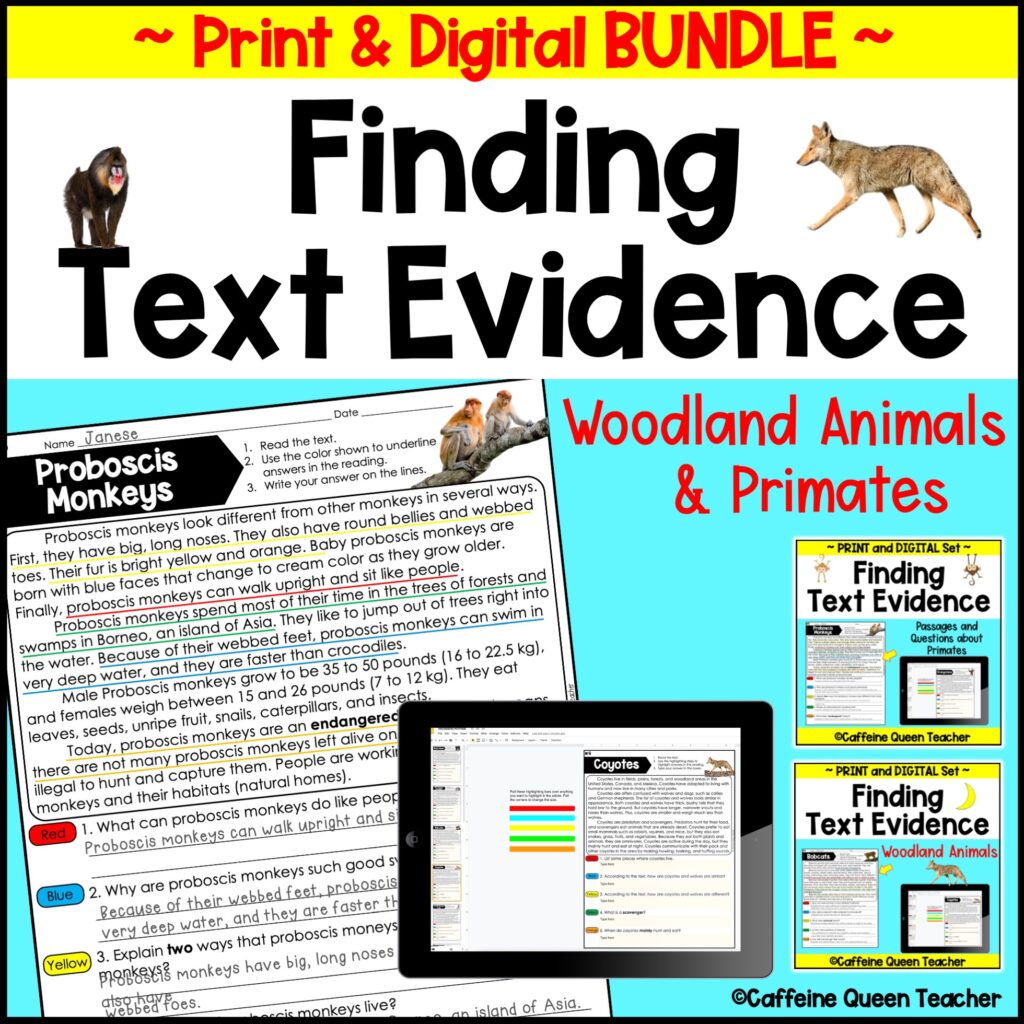 Bundle of Primates and Woodland Animals Reading Passages – 17 nonfiction passages to practice citing text evidence from primates and woodland animals reading passages. This set teaches students to refer to and cite text evidence to prove their answers. Just print and go!
Fall – Autumn-Themed Reading Passages – Your students will LOVE these 20 nonfiction and fiction passages focusing on topics surrounding fall – autumn. Students will learn to pull important information and facts from the passages and develop written responses using the key elements.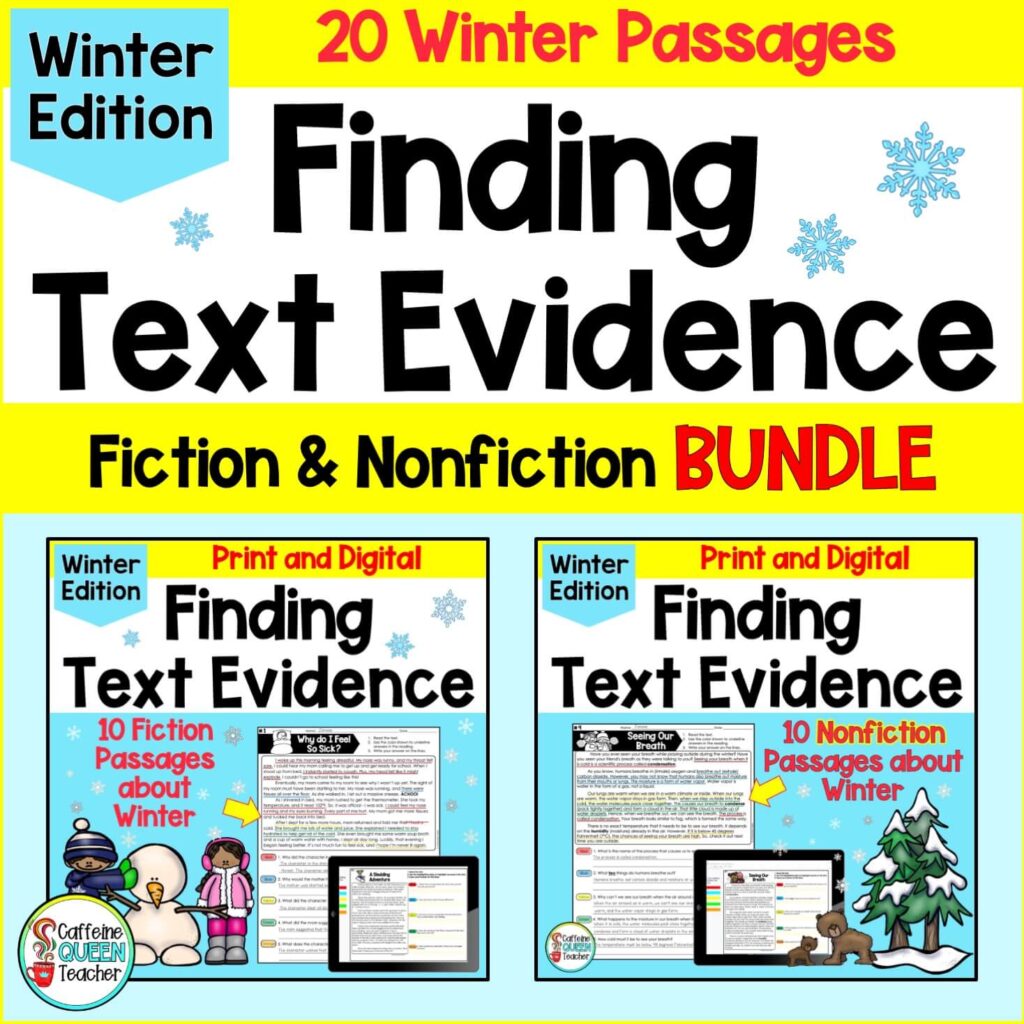 Winter-Themed Reading Passages – These 20 fiction and nonfiction passages focus on winter topics students will enjoy reading. Students will read the passages and identify specific information needed to answer comprehension questions.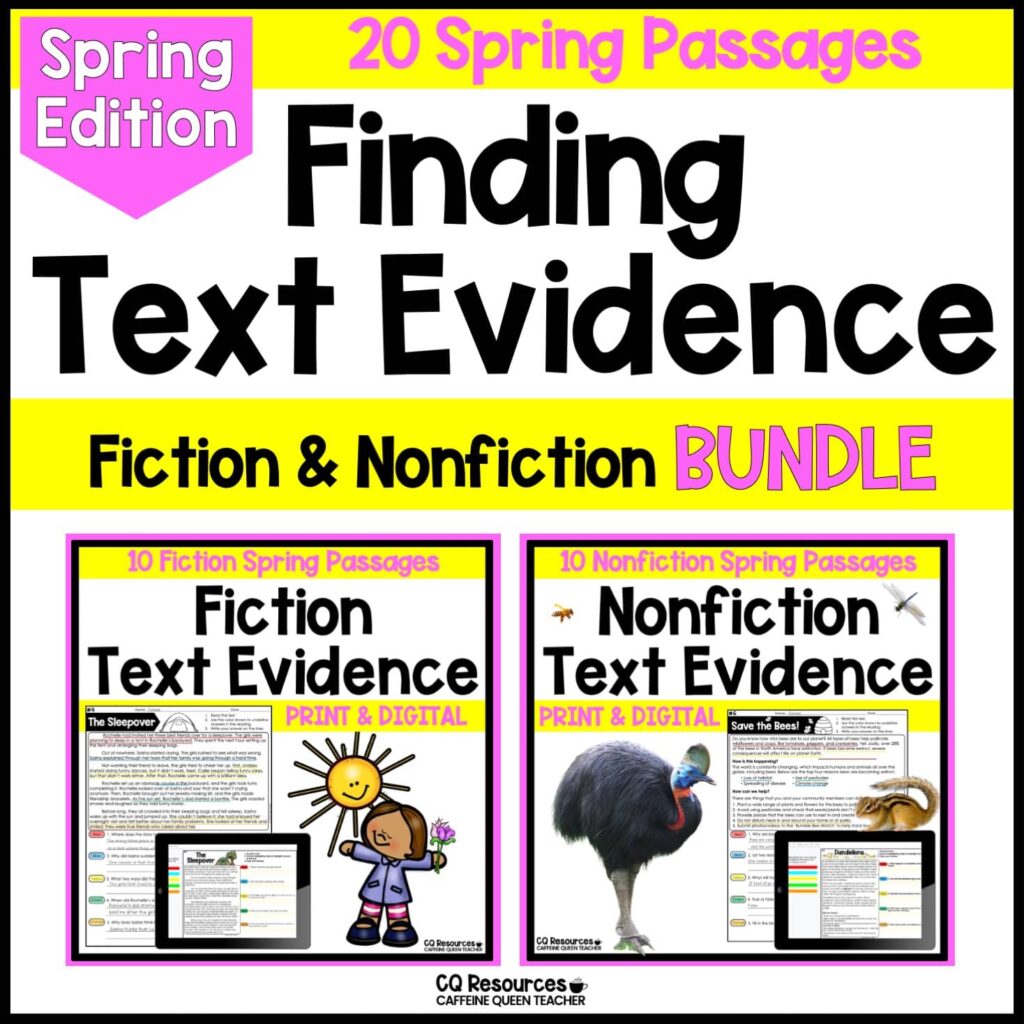 Spring-Themed Reading Passages – Your students will LOVE these 20 fiction and nonfiction spring-focused passages! Students will read the passages and then answer questions by locating the necessary information from the reading and highlighting or underlining it in a designated color – that's their text evidence.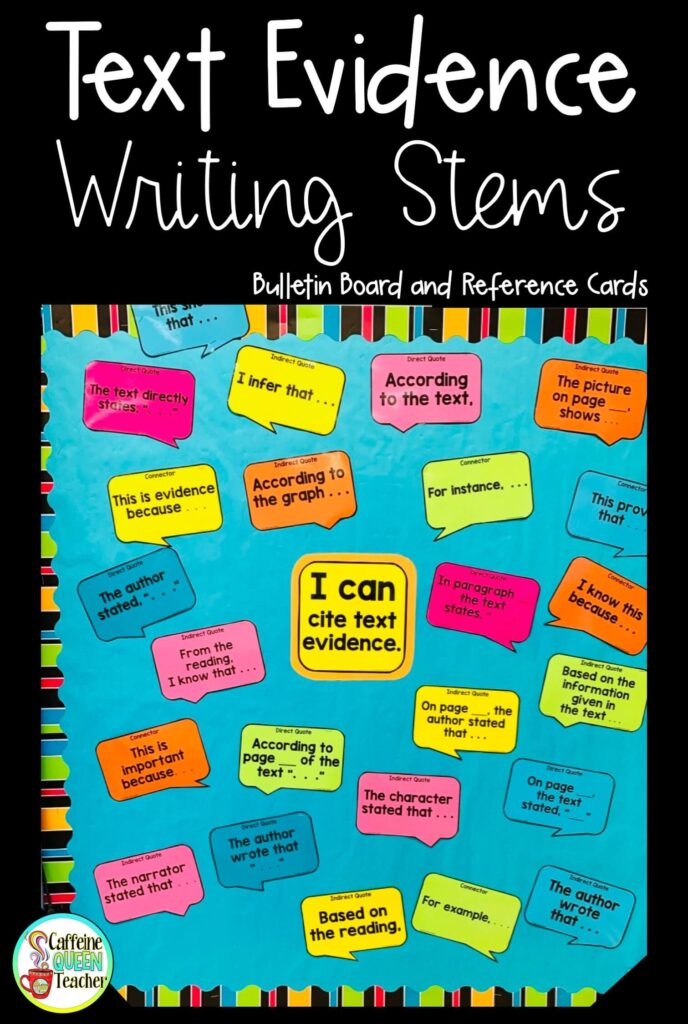 Writing Stems for Citing Text Evidence Bulletin Board Set – This Writing Stems-Citing Text Evidence bulletin board set contains writing stems (also known as thinking stems) to help students put their thoughts and answers into words. In addition, the writing stems provide a starting place for students when answering text-based questions as they develop and write quality answers.
RACES Constructed Response Strategy Bulletin Board Poster Set – RACES is an easy-to-remember strategy that helps students remember the key components to writing a solid response to questions. When teaching students to write constructed responses – this is a fantastic strategy!
Finally,
Please follow me at my Teachers Pay Teachers Store, Pinterest, and Facebook if you found this article useful! I'd LOVE to hear from you!