Thinking of the new school year doesn't have to be overwhelming and stressful. Follow these painless strategies to feel prepared and relaxed as you think about the new school year. 
With just a little bit of planning and forethought, you can be ready for the new school year while still enjoying your summer break. Yes, it's true! No stress – No pain! 
Here are 7 No Stress Back to School Ready ideas for summer break (FREEBIES are scattered throughout this post!):
1)Self-Reflection.
If you're like me, you have a pretty good idea about what went right and what went wrong last year. Your GLOWS and your GROWS.
I'm NOT talking about test scores here. I'm thinking of lessons, classroom and behavior management, rewards, homework policy, discipline policy, seating arrangement, student jobs, etc.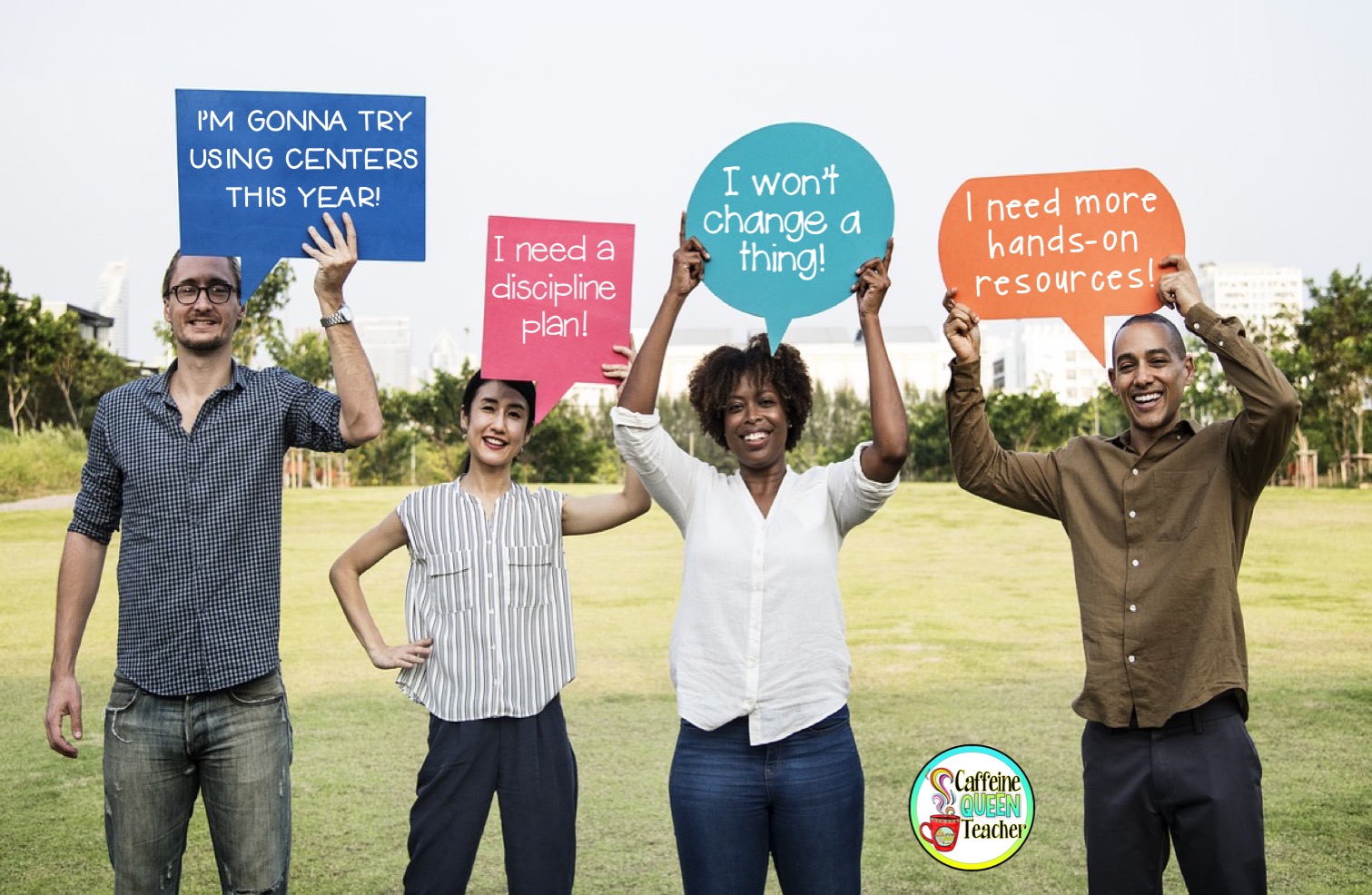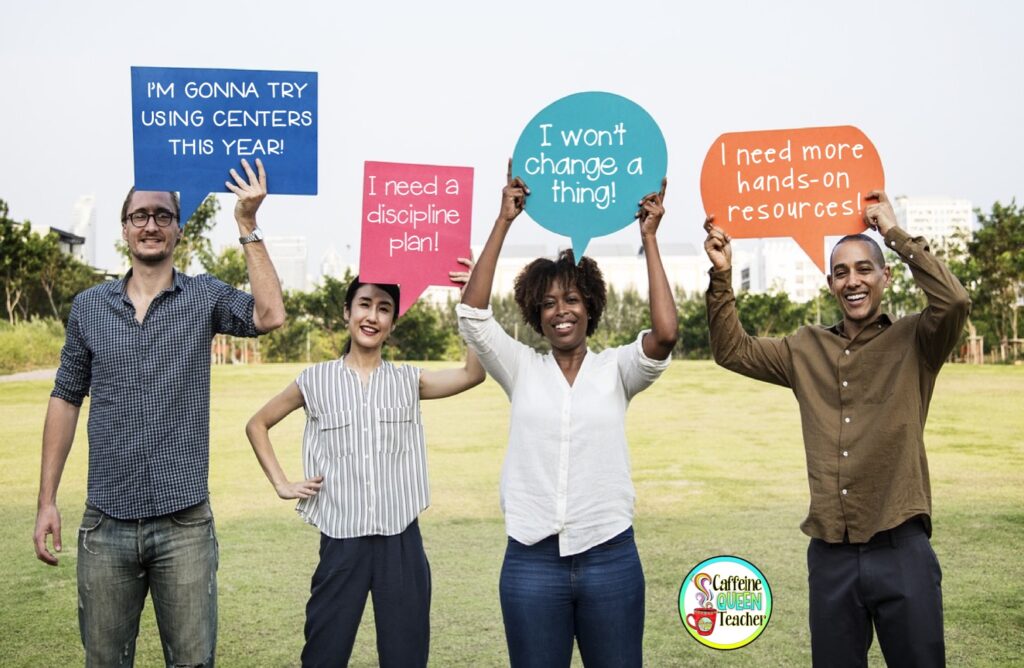 If, after fair and honest reflection, you feel that you have a couple of areas to strengthen (and who doesn't??), summer is a great opportunity to explore some new options. Don't overwhelm yourself. Choose just one or two areas that you want to make some true changes and research ideas and strategies – no pressure!
Research, in this case, means using blog articles written by other teachers in the trenches, experts in their fields, Pinterest for ideas, and internet searches that you can do on your front porch, back patio, or in air conditioning. Grab a cold drink and get comfy!
If you need a starting point, I'd love for you to follow me on Pinterest! Click the image below to visit.
Here are a couple of quick, simple Glows & Grows Self-Reflection pages to help you organize your thoughts. There's space for you to list areas in which you feel satisfied and proud and spots for you to jot down ideas about areas to improve.
These reflection pages are light-hearted but serve a purpose. Choose the version you prefer!
2) Explore Engaging Teacher Websites and Blogs.
Whatever you teach or whatever educational area excites you – there are websites and blog posts about it! You can use Pinterest to find blogs and teaching websites geared towards the topics and grades that you need.
Teachers are sooooo talented and sooooo friendly and helpful with ideas, tips, and strategies. It seems that almost every topic, subject area, state standard, problem, worry, and concern has been written about. I love the sense of community and it feels SO, SO good to learn that other teachers share many of the same concerns, worries, and issues as yourself.
One warning:  If you come across a blog that causes you to feel inadequate and insecure – LEAVE IT!
Life is too short, and I'm sure that teacher's classroom and life aren't as completely perfect as they appear in a static photo. No classroom stays perfectly neat all the time!
Instead, look for websites and blogs that INSPIRE you and make you feel capable, optimistic, and excited!
Once you connect with some blogs that you like, sign up for their email lists –  many bloggers and teacher-authors offer freebies to subscribers! Receiving their emails begin to feel like you're hearing from trusted friends.
3) Start Making Tentative Plans.
This might be the hardest one, but you can at least be warming up your brain and settling on a starting point for the more in-depth lesson planning. Maybe a new lesson plan book for inspiration to start planning! Check out TPT for some organized planners designed by fellow teachers.
These first few days are often filled with rules and procedures, which can become really boring for students. For a few bucks, you can buy some print-and-go procedures and rule options so you can check that box off your To-Do-List.
TPT is FULL of FRESH No Stress New School Year ideas and it's great for motivation and inspiration. Like Pinterest, TPT can help you decide on some lesson options, even if you don't make any purchases at this time.
To save resources and ideas for later, click the Wishlist button on TPT resources that appeal to you, put them into your cart to save, or you can simply pin TPT resources to your Pinterest boards – just make sure you set up and organize your different Pinterest boards to avoid "losing" your pins!
I suggest starting a Pinterest board called "Back to School" where you can pin all the wonderful ideas that you discover.
For even more ideas, pop on over to Pinterest and type "Back to School" in the search bar. You can then narrow down your search to more specific ideas by adding "for math teachers" or "for third grade" or "for new teachers," etc.  Start pinning! You'll soon have a pretty good collection of ideas.
If you're drawn to Back to School flip-books, then you should narrow it down and visit Teachers Pay Teachers (TPT) to check them out. If you're a new teacher (and even if you're not!), check out this Back to School Bundle of Teaching Essentials.
Just deciding on some basic planning decisions opens the door to more in-depth planning involving curriculum. 
Here's an icebreaker for you – and it's FREE!
4) Plan New School Year Classroom Décor.
While you're on Pinterest gathering incredible lesson ideas, you're sure to find some inspiring classroom décor. 
Make a Pinterest board called Classroom Décor and pin away! Start simple – avoid overwhelm. Here's my Classroom Décor Board if you need a starting point – and click the "Follow" button while you're there!
What do you want on your bulletin boards? Will they stay the same as last year? Planning to change themes or colors? Do you need some new posters?
Plan now and you'll have plenty of time to gather whatever you need. Order posters, borders, etc. now so that you'll have everything on hand when the time comes.
Here are some ideas and resources from my store:  Reading, Writing, Elementary Math, Middle School Math, Character Education, Leadership, and Career Tech – CTE.
If you choose to purchase from Teachers Pay Teachers, add the resources to your Wishlist or Pin them so that you'll remember what you liked when it's time to buy!
Here are a few of my top sellers:
5) Rest and Recharge!
Some days you just need to turn off your teacher-brain. And that's PERFECTLY NORMAL and PERFECTLY HEALTHY!
This is your time to recharge, and we all recharge in different ways.
Some people feel perfectly calm and relaxed as they look for new school year inspiration in books and websites about education. Some teachers feel that Pinterest induces anxiety – ((Are those PERFECT teachers with the PERFECT rooms even HUMAN??))
Toss in some Netflix – anyone besides me Netflix binging? My current faves are The Office for the 5,000th time (it never gets old!), Scandal, Grey's Anatomy, and Blacklist.
And if the thought of school planning gives you that "Sunday-Night-Blues" feeling, that's ok, too. You're just not ready yet.
Whatever your style is – RESPECT IT and OWN IT.
Really, you have no choice. You owe yourself time to recharge and it's very, very well deserved. Give yourself permission without pressure and guilt. What advice would you give to your best friend? Give that advice to yourself and take it.
As a parent of adult children, I understand this gem about life more than ever: 
School will always be there. This summer of your life will only last a very, very short time.
Take advantage and SAVOR IT! Spend time with your loved ones – including pets that relieve stress.
When school starts again, you'll realize that you had a Summer to Remember forever!
No Stress Back to School Checklist – FREEBIE!
I hope this No Stress Back to School Checklist makes your back-to-school planning a bit easier! If you're an elementary teacher, subscribe to my newsletter to be notified of FREEBIES, sales, and new resources!
Did you find all of the No Stress New School Year FREEBIES?
Thanks for stopping by!!